Four Do's and Don'ts to Avoid ConAgra's Merger Mistake: Real M&A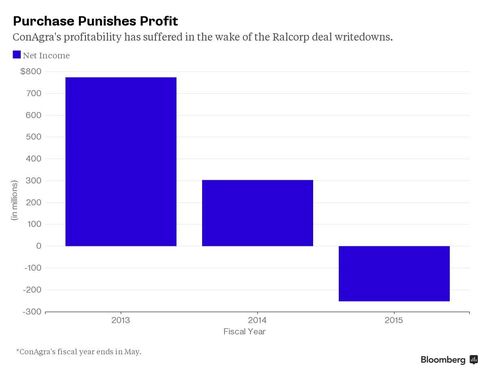 ConAgra Foods Inc. is finally unraveling its painful merger with Ralcorp Holdings Inc.
The transaction, which came together in 2012 and cost $5 billion in cash plus the assumption of about $1.7 billion of debt, was supposed to create "significant value." And ConAgra had assured shareholders that its branded products such as Chef Boyardee and Reddi-wip would be a "great fit" with Ralcorp, which makes cereal and pasta that supermarkets sell under their own labels.
About $2 billion of writedowns later, it's looking more like a lesson in bad dealmaking. Here are four takeaways:
1. DON'T fight the cycle: Perhaps the first sign that ConAgra was headed down a rocky path was that it was buying a business in which it had very little experience. Ralcorp was a private-label company, while ConAgra made brand-name foods. No other food giants do both. And at the time of their negotiations, the acquisition cycle had begun to transition to an emphasis on simpler corporate structures. Conglomerates are being dismantled, and companies are increasingly focusing on one main division.
2. DON'T be afraid to walk away: Ralcorp initially snubbed ConAgra in 2011, deciding instead to pursue a spinoff of the Post Holdings Inc. business. ConAgra should have just walked away at that point. But then Ralcorp became the target of Corvex Management LP, an activist investment firm run by Keith Meister. He helped push the company into ConAgra's welcoming embrace. ConAgra wound up overpaying and taking hits to profit for a deal that wasn't worth the trouble.
3. DON'T blindly follow activists: Many of the deals that have swept through the U.S. in the past two years were triggered by activism. Some have proved lucrative, and some haven't. Just because an activist says it's a good deal, doesn't mean it is. Plus, ConAgra's all-cash offer meant that Ralcorp holders such as Corvex got to cash out and avoid the frustration that ConAgra owners later had to endure.
4. DO act quickly to fix the problem: Bad deals happen, but "you've got to lick your wounds and move on," says Jack Russo, an analyst at Edward Jones & Co. That's better than being in denial and watching value erode. Investors are applauding Sean Connolly, who has been at the helm of ConAgra for less than three months, for already undoing the merger his predecessor Gary Rodkin oversaw and stood by. While the Ralcorp division won't be able to sell for as much as ConAgra paid for it, the move will raise some money that can be used for buybacks or dividends to reward patient shareholders.
Before it's here, it's on the Bloomberg Terminal.
LEARN MORE