EU's Juncker Said to Be in Touch With Tsipras on Greece Deal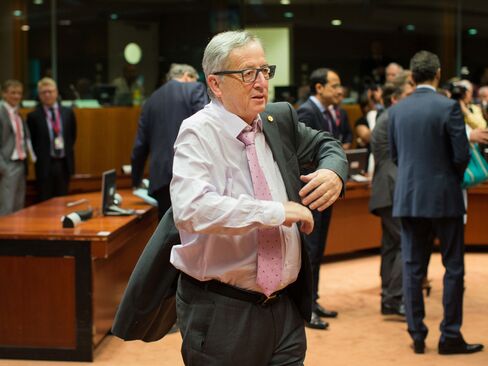 Greek Prime Minister Alexis Tsipras on Monday contacted European Commission President Jean-Claude Juncker, who detailed how a last-minute bailout accord could still be reached, according to an EU official.
Tsipras would have to send a letter to Juncker, Eurogroup Chief Jeroen Dijsselbloem, German Chancellor Angela Merkel and French President Francois Hollande, accepting a proposal that was agreed upon by the International Monetary Fund, the European Central Bank and the European Commission, the official said, asking not to be identified because the talks are private.
"Greece is a member of the European family and we want this family to stand together," EU Commission spokesman Margaritis Schinas said to reporters Tuesday in Brussels.
Tsipras would also have to commit to a campaign that would support the creditors' plan in a July 5 referendum in Greece, the official said. This would allow for euro-area finance ministers to meet and approve the measure.
"We're open for negotiations, the attempt to bring Greece back to the negotiating table continues to this hour," Austrian Finance Minister Hans Joerg Schelling told journalists ahead of a government meeting in Vienna on Tuesday.
(An earlier version of this story was corrected to indicate that Tsipras contacted Juncker.)
Read this next:
Before it's here, it's on the Bloomberg Terminal.
LEARN MORE