Suicide Bomber Kills 1, Injures 20 Near Kabul U.S. Embassy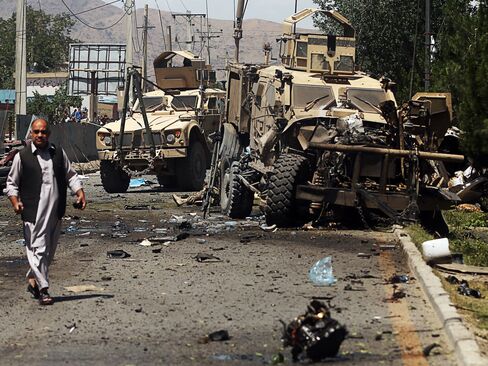 A suicide car bomber targeted a NATO convoy near the U.S. embassy in Kabul, killing one Afghan civilian and injuring about 20 in the latest Taliban test of President Ashraf Ghani's control over Afghanistan's capital.
Sediq Siddiqi, an interior ministry spokesman, confirmed the death and injuries by phone. No NATO or U.S. embassy personnel were killed or injured. Taliban spokesman Zabihullah Mujahed claimed responsibility for the attack in a phone interview.
The bombing occurred a week after Taliban militants attacked parliament while about 250 lawmakers were inside. Security forces killed the seven assailants, ending a plot that might have been far deadlier.
It also came hours after the explosion of a magnetic bomb that had been attached to a military vehicle, wounding a number of children in Kabul, and a suicide truck bomb that targeted the police headquarters in Helmand province, killing two and wounding more than 50.
The violence has increased pressure on President Ghani as Afghan troops take over security duties from the U.S. after more than 13 years of war. U.S. President Barack Obama ended combat operations in December and plans to remove nearly all U.S. troops by the time he leaves office in January 2017.
Before it's here, it's on the Bloomberg Terminal.
LEARN MORE