Calipari Says No Offer From NBA's Kings, Will Stay at Kentucky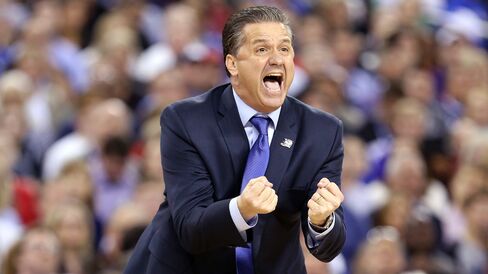 Calipari had talked with Kings' ownership, Yahoo reported

He discussed taking over front-office and coaching jobs
John Calipari said he's talked to Sacramento Kings' ownership about some of his former University of Kentucky players, but hasn't been offered a National Basketball Association job and will remain coach of the Wildcats.
Calipari, 56, had talked with Kings owner Vivek Ranadive in recent weeks about taking over the team's front-office and coaching jobs, Yahoo Sports reported Tuesday, citing unidentified people familiar with the situation. The report said no offer was made to Calipari, who was elected to the Naismith Basketball Hall of Fame in April.
"For the 100th time, I have the best basketball coaching position in the world," Calipari, who signed a seven-year, $54 million extension at Kentucky last year, said via Twitter. "I am not looking for any other coaching position."
The Kings' interest in Calipari grew as the relationship between current coach George Karl and All-Star center DeMarcus Cousins has deteriorated, according to Yahoo. Calipari coached Cousins at Kentucky and Yahoo reported that Ranadive believes Calipari could convince Cousins to stay with the franchise rather than seek a trade to the Los Angeles Lakers. The Kings in April brought in Vlade Divac to run basketball operations.
Calipari said on his Twitter account that he's talked about Cousins with Ranadive "on and off" since the Tibco Software Inc. founder bought the team in 2013. Calipari said he's also spoken with Ranadive in the past two weeks about the NBA draft, with the Kings selecting Kentucky's Willie Cauley-Stein with the sixth overall pick.
Calipari wrote on Twitter that "at no time" has Ranadive offered him a job and then, in all capital letters, said he will be at Kentucky.
Calipari, 56, has compiled a 190-38 record with the Wildcats, winning one national championship and making four Final Four appearances. Calipari, who also coached at Massachusetts and Memphis, was coach and vice president of basketball operations for the NBA's New Jersey Nets from 1996-99. He had a 72-112 record in the NBA.
Karl, who joined Sacramento in February, has three years and almost $10 million left on his contract, Yahoo said, adding that Kings' ownership understands it would take a multiyear deal paying more than $10 million annually to get Calipari to consider leaving the Wildcats.
Calipari is college basketball's highest paid coach and is due a $1.6 million retention bonus on July 31. He'd owe no money to Kentucky if he terminates his contract.
Before it's here, it's on the Bloomberg Terminal.
LEARN MORE