Airbus Wins $18 Billion China Deal, Plans Jet-Completion Site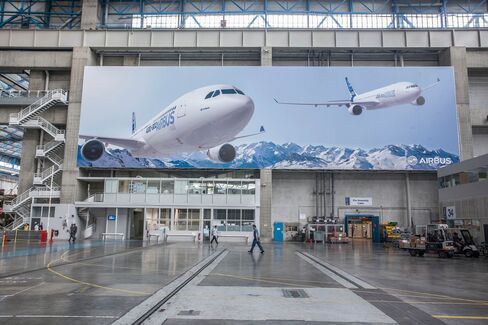 Airbus Group SE won an order from China for as many as 75 A330 jets worth $18 billion at list prices as it finalizes an agreement to open a facility in the Asian nation for fitting out and painting the wide-body model.
The deal, for 45 planes plus an outline agreement on options for 30 more, will help Airbus maintain monthly output levels as it transitions to a revamped A330 with new engines, avoiding deeper production cuts than planned.
Chinese Premier Li Keqiang announced the transaction during a visit to Paris Tuesday, with French Prime Minister Manuel Valls saying that an accord on the A330 completion center will be announced in coming days. A statement from Toulouse, France-based Airbus didn't provide a breakdown of which A330 variants are included in the order.
China has always been the biggest market for Airbus's popular twinjet. Its airlines had been expected to place fresh orders after Airbus said last year it would develop a new regional variant tweaked to better serve the Chinese market.
The A330 family seats between 250 and 440 passengers and is Airbus's most successful twin-aisle plane to date, with more than 1,000 units delivered so far.
Chinese officials said last week in Beijing that Li will visit Toulouse on July 2. The completion center, if announced, would be for A330s going to Chinese customers.
Airbus and China already jointly own a final assembly line in Tianjin that has been producing A320 single-aisle planes for local operators since 2008.
Before it's here, it's on the Bloomberg Terminal.
LEARN MORE