Swiss Pilot Begins 5-Day Flight Attempt in Solar-Powered Plane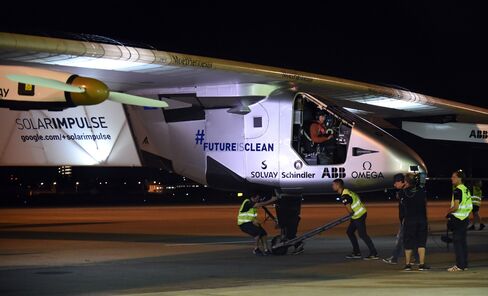 Swiss pilot Andre Borschberg began an attempt to fly five days and nights in a single-man solar-powered plane after weather delays reduced the chances of achieving a multileg round-the-world flight this year.
Borschberg took off from Nagoya, Japan, at 3:03 a.m. local time Monday. He's heading for Hawaii in Solar Impulse, an ultralight plane that has the wingspan of a Boeing Co. 747 jumbo jet but weighs no more than a family car.
The Solar Impulse team's first attempt to start crossing the Pacific Ocean was delayed numerous times, and then a flight that began in Nanjing, China, was diverted to Japan due to unfavorable weather.
"The real moment of truth lies ahead," Borschberg said in a statement. "We are now at the point in the round-the-world solar flight where everything comes together."
The plane began the attempt to fly around the world in several legs from Abu Dhabi in March. Borschberg and Bertrand Piccard are taking turns flying the plane, using yoga, meditation and 20-minute naps to sustain themselves in the 3.8 square-meter (40 square-foot) cockpit.
The 21,000-mile global route crosses India, China and the U.S. before returning to Abu Dhabi via southern Europe or north Africa, depending on weather conditions.
Before it's here, it's on the Bloomberg Terminal.
LEARN MORE