Merkel Says Europe Can't Put Principles Aside Temporarily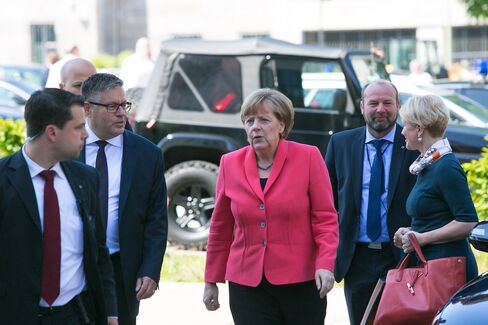 German Chancellor Angela Merkel said Europe can't throw aside its principles after aid talks with Greece broke down, though she said she remains open to finding a compromise.
"If the euro fails, Europe will fail," Merkel told a party meeting marking the 70th anniversary of the chancellor's Christian Democratic Union party in Berlin, reviving a phrase she used in earlier years of Europe's debt crisis.
"That's why we have to fight for these principles," she said. "We could maybe set them aside in the short term. We could maybe say we'll just give in. But I say: in the medium and long term, we will suffer damage that way."
Merkel praised German Finance Minister Wolfgang Schaeuble's conduct in Europe's negotiations with the Greek government, drawing an extended round of applause from national CDU leaders gathered for the event Monday.
Read this next:
Before it's here, it's on the Bloomberg Terminal.
LEARN MORE