Waksal Sued by Barred Ex-John Thomas Head Belesis Over Deal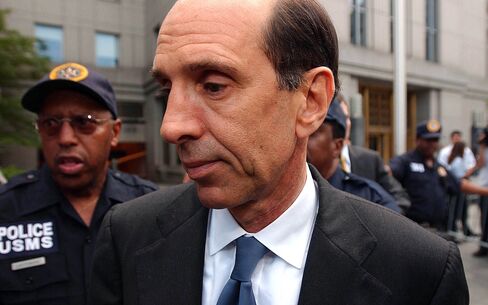 Convicted insider trader Sam Waksal was accused of cheating former brokerage head Anastasios "Tommy" Belesis in a stock deal allegedly designed to sidestep the U.S. ban on Waksal serving as a public company's officer.
Belesis said Waksal failed to meet the terms of a stock-purchase agreement tied to Kadmon Pharmaceuticals LLC. Belesis claims he's still owed $15 million by Waksal, who started Kadmon after leaving prison.
Waksal, previously ImClone Systems Inc.'s chief executive officer, served a five-year term for telling his daughter to sell her ImClone shares a day before U.S. regulators rejected the company's application for a colon cancer drug. His friend, lifestyle and design entrepreneur Martha Stewart, was also convicted and sent to prison in the stock scandal.
Belesis said in his complaint filed Monday in Manhattan federal court that he agreed ahead of a planned initial public offering to renounce his interest in 1 million shares of Kadmon stock in exchange for $15 million. Waksal never paid him, said Belesis, the founder of defunct brokerage John Thomas Financial Inc. who was expelled from the securities industry for trading ahead of his clients,
The 2010 deal was designed to avoid disclosure to investors and circumvent restrictions imposed upon Waksal by federal prosecutors and regulators after he pleaded guilty to insider trading and settled a related insider-trading case by the U.S. Securities and Exchange Commission, according to Belesis.
Alleged Deception
"In order to deceive the court and the public and to perpetuate a fraud upon the public in connection with Kadmon's anticipated initial public offer, Waksal carried out a plan, scheme, and course of conduct which was intended to and did deceive actual and potential investors," Belesis said in his lawsuit.
Kadmon remains a closely held company. Waksal told CNBC in a September 2014 interview that Kadmon was planning an initial public offering.
Belesis included excerpts from an e-mail he said he got from a Kadmon lawyer, which refers to the federal restrictions placed upon Waksal after he was convicted and settled the SEC case. Waksal was barred for life from acting as an officer or director of any publicly traded company.
"In substance, we are still thinking the mechanism through Sam Waksal will personally convey to Tommy Belesis, in compensation for Tommy's personal assistance to Sam in trying to work around" the regulatory restrictions, the lawyer said in the e-mail.
Personal Funds
Belesis said Waksal agreed to pay him from his personal funds rather than corporate money.
In January, Belesis was barred from the brokerage industry for life by the Financial Industry Regulatory Authority after regulators said he dumped the New York-based firm's position in a penny stock that was surging while 14 customers tried and failed to sell their shares.
Before the Finra action, Belesis played a minor role in the movie "Wall Street: Money Never Sleeps." That was before his boiler room across from the New York Stock Exchange closed in 2013.
Kadmon was sued in New York state court in 2013 by a John Thomas Financial broker, Kevin Glodek, who said he's owed at least $4 million in commission and other fees after he helped Waksal raise $40 million in 2012 from unidentified investors.
Disputed Claims
Kadmon, in a response to that suit in April, disputed Glodek's allegations and said it paid a commission to John Thomas Financial. Kadmon said the now-defunct brokerage isn't entitled to payment "because it was not, and is not, a member in good standing with Finra," and claims Glodek and the brokerage took too long to file the suit.
Judith Mogul, a lawyer for Kadmon in the state lawsuit, and Ellen Tremaine, a spokeswoman for Kadmon, didn't immediately respond to voice-mail messages seeking comment on the cases.
The case is Belesis v. Waksal, 15-cv-05048, U.S. District Court, Southern District of New York (Manhattan.) The state case is Kevin Glodek v. Kadmon Holdings LLC, 652116/2013, New York State Supreme Court (Manhattan).
Before it's here, it's on the Bloomberg Terminal.
LEARN MORE