Hedge Funds Are Wagering Greeks Will Vote Yes in Sunday's Referendum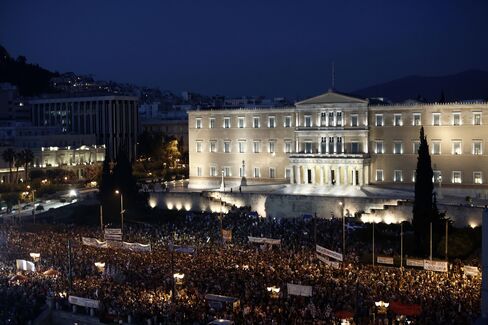 As the prospect of a Greek referendum on austerity measures sends global stock markets tumbling, some hedge-fund managers are brushing aside concerns that the Mediterranean country will cause a global calamity.
Leon Cooperman, who runs Omega Advisors, said Monday it's hard to imagine that Greece would become a major event for the markets, as he put the chances of the country quitting the euro at less than 50 percent. Greylock Capital Management, an emerging-market firm that owns Greek debt, said people will probably vote for the austerity measures in the July 5 referendum, called on Saturday by Prime Minister Alexis Tsipras.
"I think the idea of the referendum took the market by surprise, because it does not seem to help Tsipras in any significant way," said Diego Ferro, co-chief investment officer at Greylock. "We still believe the most likely outcome is an agreement, as it is the only way for Greece to reopen the banks and have a functioning system."
Hedge funds have been dabbling in Greece for the last two years, seeking returns in a market viewed as too risky for many traditional investors. Third Point's Dan Loeb started the Hellenic Recovery Fund in 2013, and Randy Smith, who runs Alden Global Capital, started a Greek focused fund in December. John Paulson bought bank stocks. Perry Capital purchased Greek debt as did Knighthead Capital Management and Monarch Alternative Capital.
Capital Controls
The managers voiced optimism as Greece shut lenders and imposed capital controls Monday, a measure that will deepen the country's recession and risk driving it toward an exit from the euro. U.S. stocks rebounded Tuesday from the biggest slide in a year, while European equities fell with the euro amid concern Greece will exit the euro, with uncertain consequences for the region.
"It's hard for me to imagine that this will be a major event for global markets," Cooperman said in an interview with Bloomberg TV's Betty Liu.
Omega owned 4.7 percent of a Greek Exchange Traded Fund at the end of the first quarter, valued at $16 million at the time. The ETF fell 19 percent yesterday in New York, before rebounding today with a 5.8 percent gain as of 11:33 a.m.
Tsipras's Party
Bruce Richards, co-founder of U.S. hedge fund Marathon Asset Management, said Tsipras will be out of office within 30 days regardless of the outcome of the nation's referendum.
"If he takes it off the cliff, there's going to be rioting in the streets come weeks from now when the banks are closing and you have drachma. And if they vote yes, they're voting against" Tsipras's party Syriza, he said in an interview on the television program "Wall Street Week" posted online on Monday.
Greek voters will back the "most sane economic program," which is to stay in the euro, he said.
The total amount hedge funds have invested in Greece is relatively small, and some firms, like David Einhorn's Greenlight Capital, have cut their positions in the country in recent months. Einhorn said in February that he had bet on Greek banks through warrants. The firm's exposure to Greece is now minimal, according to a person familiar with the firm.
'Lot of Leverage'
"There's a wide range of possible outcomes there relating specifically to our position," Einhorn said on a conference call Feb. 18. "There's a lot of leverage to the upside if the situation resolves favorably and the warrants go into the money."
Many funds wagered on an improving Greek economy through stocks. Lansdowne Partners, the London-based hedge fund with $18.5 billion in assets, was the second-largest owner of Greek port operator Piraeus Port Authority SA, holding 2.1 million shares as of June 26, according to data compiled by Bloomberg. The hedge fund has since cut its stake by more than half, according to a person familiar with the matter.
A Carlyle Group LP hedge-fund manager, Emerging Sovereign Group, was the second-largest holder of National Bank of Greece shares trading in the U.S. The firm owned 13.2 million shares at the end of March, then valued at $16.9 million, according to a filing.
Pine River Capital Management owned 4.7 million shares of Tsakos Energy Navigation Ltd. as of the end of the first quarter. The hedge fund was the shipping company's fourth-largest owner. The stock returned 37 percent so far this year.
Paulson's Bets
Read this next:
Paulson was the second-largest holder in Piraeus Bank, with a 6.6 percent stake that he disclosed in the second quarter of 2014. The shares, which priced at 1.70 euros ($1.91) at the time of the sale, closed at 40 cents on Friday, making Paulson's initial 686.7 million-euro investment worth just 161.6 million euros if he still owns the same amount.
Last year, Paulson also spent $120 million buying a 9.9 percent stake in Athens Water Supply & Sewage Co. Paulson said in December that he wasn't adding to his Greek investments.
Officials for the hedge funds either didn't return calls or declined to comment on their Greek holdings and the outlook for the country.
"Politically I think it is going to go to the eleventh hour," said Louis Gargour, who runs more than $200 million of assets at London-based LNG Capital, a credit firm. "The Greek government will end up doing a deal because they want to stay in power."
Before it's here, it's on the Bloomberg Terminal.
LEARN MORE