Hayes Accused Boss of Misconduct After Being Fired by Citigroup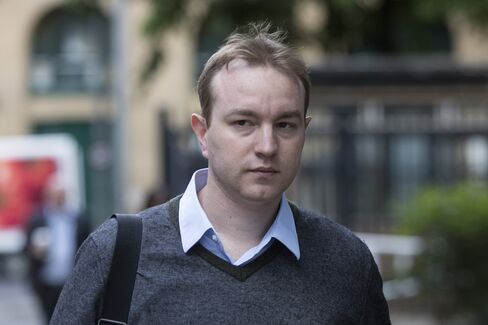 The day after Thomas Hayes was dismissed by Citigroup Inc. for rigging Libor, the derivatives trader fired off an e-mail accusing his boss of manipulating similar benchmarks.
Hayes, who is on trial in London, said that Brian McCappin, head of Citigroup's investment bank in Japan, asked traders to fiddle with the Tokyo interbank offered rate, according to an e-mail shown to jurors by prosecutors Monday.
"Brian McCappin would talk to the cash desk in Tokyo and ask them to move Tibors," Hayes wrote to a counterpart at Barclays Plc in a September 2010 message. "I never spoke to the Tokyo cash desk as they were a different business area."
The 35-year-old Hayes is accused of eight counts of conspiracy to manipulate the London interbank offered rate, the benchmark used to value more than $350 trillion of loans and securities. The former trader, who worked at banks including UBS Group AG, has pleaded not guilty.
Prosecutors say that Hayes bullied and cajoled fellow traders and brokers to move benchmark rates to boost his positions. Hayes's lawyers say the practice was widespread.
Hayes sent the e-mail following an internal investigation that found he had tried to manipulate Libor. McCappin hasn't been charged with a crime and isn't accused of wrongdoing.
"Brian's involvement was covered up for want of a, for want of a better word," Hayes said in a recording of a June 2013 interview with the Serious Fraud Office that prosecutors played to the jury.
Three days after he was fired, Hayes wrote a letter to Citigroup's human resources department in which he stated that managers knew about his attempts to manipulate Libor.
"My actions were entirely consistent with those of others at senior levels in Citigroup Global Markets Japan," Hayes wrote in the Sept. 9, 2010, letter to a human resources executive shown to jurors by prosecutors. "Senior management at CGMJ were aware of my actions and at no point was I told that my actions could or would constitute any wrongdoing."
Before it's here, it's on the Bloomberg Terminal.
LEARN MORE