Goldman, SocGen See Gluts Ending Crop Rally After ETF Flow Surge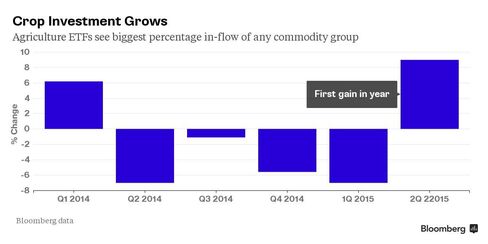 Investors are piling into agricultural funds just as Societe Generale SA and Goldman Sachs Group Inc. predict ample supplies will end June's surprise rally in prices.
More than $130 million was added to exchange-traded funds linked to crops since March, the first quarterly increase in more than a year, data compiled by Bloomberg show. The fund inflow began in May, before this month's rebound in prices that had been slumping for most of the past three years. Corn in June had its biggest increase this year, wheat rebounded into a bull market and soybeans reached a three-month high.
Trouble is, Goldman and SocGen say the gains won't last. Prices the rest of this year will be lower than they are now for most farm goods because of big harvests, the banks said. Expanding stockpiles have pushed global food costs to the lowest in five years, while Monsanto Co., the world's largest seed company, signaled last week that lower corn and soybean prices will likely persist beyond 2015.
"The fundamentals on a lot of these commodities aren't very good," said Donald Selkin, New York-based chief market strategist at National Securities Corp., which manages about $3 billion. "With the increase in participation in ETFs, market sentiment is improving, but it doesn't necessarily mean that that sentiment will turn into reality."
Cheaper Food
Bigger harvests have sent global food prices plunging over the past year to the lowest since September 2009, United Nations data show. The Bloomberg Commodity Index is down 2.3 percent this year, while the Bloomberg Agriculture Index of eight farm products slumped 2.9 percent. The MSCI All-Country World Index of equities advanced 1.4 percent.
U.S. corn inventories as of June 1 rose to the highest for that date since 1988, and farmers increased soybean plantings to a record, the U.S. Department of Agriculture said Tuesday.
"There's plenty of soybeans around the world, and we expect to continue to see South American supplies competing with the U.S.," said Christopher Narayanan, the New York-based head of agricultural research for SocGen. While soybean futures rose 9.3 percent this month on the Chicago Board of Trade, trading at $10.2125 a bushel on Tuesday, prices will average $8.92 in the third quarter, SocGen forecast June 3.
Commodity Surpluses
Corn futures surged more than 16 percent in June, the biggest gain since October, to $4.095 a bushel on Tuesday in Chicago. Goldman sees prices sliding to $3.75 a bushel in three, six and 12 months, analysts said in a May 22 report.
It's not just agricultural commodities that have been saddled with excess supply. Copper prices are heading for a fourth straight quarter of losses, the longest slump since 2001, as exchange inventories nearly doubled in the past year.
While crude oil has rebounded from 2014's bear market, climbing 11 percent since December, Goldman expects the gains will be short-lived. The bank forecasts West Texas Intermediate to drop to $45 a barrel in six months as Saudi Arabia, Iraq and Russia expand production. Futures traded at $59 in New York Tuesday. SocGen expects that higher U.S. interest rates will drag gold prices to an average of $1,050 an ounce by the fourth quarter as investors favor assets with better yield prospects. The metal was at $1,176.90 on Tuesday.
Weather Risk
For crops, there's still the risk that weather damage will boost prices. Soybeans in the U.S., the largest producer, are emerging at the slowest pace in at least 16 years after heavy rains prevented many farmers from planting on time, according to USDA data. Corn conditions have diminished and the winter-wheat harvest remains slow.
The first El Nino pattern since 2010 is strengthening, which brings the potential for droughts across Asia and flooding in South America, according to Australia's Bureau of Meteorology. The weather system can hurt crop output in some countries and boost inflation, increasing returns from grains by as much as 25 percent, according to a June 16 report by Citigroup Inc.
Even if some crops are damaged, there remains a "buffer of inventories" that will keep the market well-supplied, said Aakash Doshi, a vice president at Citigroup Global Markets Inc. in New York. Combined global stockpiles of corn, soybeans and wheat are forecast to climb to a record, USDA data show.
Bearish Bets
Hedge funds are betting on more losses. Money managers have held a combined net-short position across 11 farm products for 15 straight weeks, U.S. government data show. The only other time there was a bearish outlook was for one week in August 2013, according to records that start in 2006.
"There will be some price volatility going forward, but right now, I don't expect a massive rally in these prices," said Stefan Vogel, Rabobank International's London-based head of agricultural commodity market research. "Stockpiles are still very high from last year's crop." Farmers still have a lot of corn, and "there will be most likely some more sales, which should cap any rallies," he said.
Before it's here, it's on the Bloomberg Terminal.
LEARN MORE