Europe to Greece: Vote Is About Keeping or Quitting Euro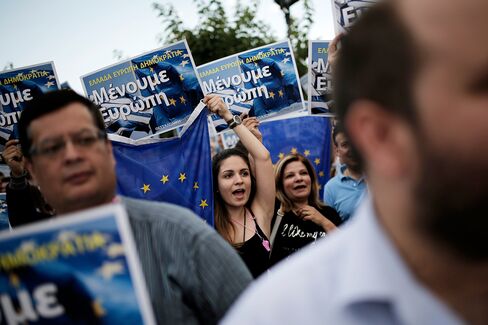 European leaders intervened in Greece's referendum campaign by framing Sunday's vote as an up-or-down decision on whether to quit the euro and the wider European Union.
European Commission President Jean-Claude Juncker accused the Greek government of misleading its people about what is at stake, saying that the "whole planet" would view a "no" vote as Greece turning its back on Europe.
Rejection "would signal that Greece wants to distance itself from the euro zone and Europe," Juncker told reporters Monday in Brussels. French President Francois Hollande said in Paris: "What's at stake is serious. It's about knowing if the Greek people want to stay in the euro zone."
The shadow boxing between northern European capitals and Athens recalled a November 2011 episode in the euro crisis when Greece first considered holding a referendum. The vote was scrapped and the government fell after Germany and France staged a similar show of force, casting it as a in-or-out ballot on the euro.
This time around, Greece is deeper in debt, unemployment is higher -- 25.4 percent now, compared to 19.9 percent then -- and the Greek political conversation has been coarsened by the election of a left-wing government after center-left and center-right leaders failed to repair the economy.
'Moved Mountains'
Juncker, a key figure in the euro debt saga since it broke out in 2010 when he was Luxembourg's prime minister, vented at Greek Prime Minister Alexis Tsipras for walking away from a "socially fair" economic reform proposal over the weekend.
"We really moved mountains until the very last minute when Greek authorities closed the door," he said. "It would be advisable to the Greek government to tell the truth to the Greek people."
Juncker said he would fight "to the last millisecond" to save Greece from economic disaster. France's Hollande went further, virtually pleading with Tsipras to return to the bargaining table lest a no vote on Sunday makes it too late.
France "is available, still available to restart the dialogue, restart today, restart tomorrow," Hollande said. "Today there is still the possibility of an agreement; tomorrow, that will depend on the Greeks' response to the referendum."
The messages from Brussels and Paris left Europe's most influential figure, German Chancellor Angela Merkel, to issue a "dual message" to avoid the impression that she is trying to strong-arm Greek voters who blame Germany for five years of economic pain.
While the outcome of the referendum "has something to do with staying in the euro," Merkel said in Berlin after a crisis meeting of her coalition government, "we have to be very careful what messages we send."
Germany's vice chancellor, Sigmar Gabriel, was blunter: "It must be crystal clear what the decision is about: it comes down to the question 'yes' or 'no' of staying in the euro zone."
Before it's here, it's on the Bloomberg Terminal.
LEARN MORE