Egypt's Handouts Will Save Money and Avert Unrest, If They Work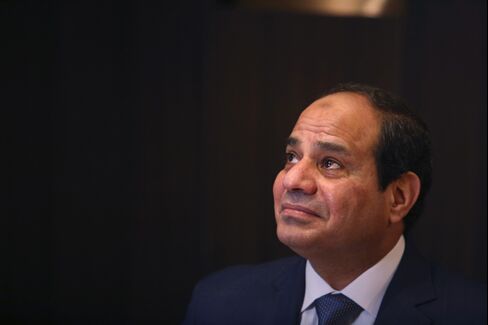 When Suma Badie's village in southern Egypt was chosen to pilot a program of cash handouts for the poor, no one else in her household -- 33 people, sharing three rooms -- thought it was worth signing up.
Badie was skeptical too, because "the government says lots of things about giving apartments and jobs, but we never see any of that," she said. "When I applied, I didn't expect to get anything. This time, it turned out to be real."
Making the new system work is central to Egypt's plans for economic revival after years of stagnation. President Abdel-Fattah El-Sisi aims to slash a subsidy bill, mostly for food and energy, that ballooned to about 8 percent of economic output last fiscal year.
Instead, money will be directed to those who need it most - - eventually, about 18 million Egyptians, the poorest 20 percent of the population. After years of political turmoil the government is eager to make sure they're spared the impact of spending cuts. Yet it's also under pressure from investors to trim one of the region's biggest budget deficits. Targeted handouts are a way of achieving both goals.
"Egypt should have switched its social protection system to cash transfers a long time ago," said Sherif El-Diwany, executive director of the Egyptian Center for Economic Studies. "It is a far more effective way to help the poor. It will also save a tremendous amount of money."
'Inhale Its Scent'
Energy subsidies are set to drop by about $6.7 billion this year and another $1.8 billion next year. About 15 to 20 percent of the savings are earmarked to fund the programs that are being tried out in Badie's village of Abu Teeg, near Assiut in southern Egypt.
She shares a house there with her husband, his four brothers, their wives and a total of 23 children. Only the men work, and that only intermittently. They can afford a pound or two of meat each month -- "just enough for us to inhale its scent."
Badie signed up for a program called Takaful or Solidarity, which gives cash to families on condition that their children attend school and undergo regular medical checkups. Another plan, Karama or Dignity, covers the elderly and the disabled.
While the logic of targeted spending is clear, other countries have found it hard to implement.
Iranian Example
Iran replaced food and energy subsidies with direct cash payments starting from 2010. The plan was praised by the International Monetary Fund, but in practice it failed to target the handouts, disbursing them to all Iranians instead of just the neediest, and ended up spending more than it saved.
Egypt can't afford a repeat, economists and investors warn. Growth has averaged about 2 percent since 2011, the slowest pace for two decades. Even if all goes to plan, the government's fiscal adjustment plans are "modest," with the deficit set to narrow to 8.5 percent of output by 2019 from 10.8 percent now, according to Jason Tuvey at Capital Economics in London.
"Egypt's dire public finances are set to remain a key concern for investors," he wrote.
El-Sisi, a former general who's presided over a crackdown on opposition groups, has taken some steps to close the gap. Last year, less than a month after his election, he raised gasoline prices by as much as 78 percent.
"We are taking away product subsidies and turning it into cash support to poor families," said Nevine El-Kabbag, head of the new programs. "Most of these subsidies, especially in energy, went to people who don't deserve them -- people who have cars and air conditioners."
'Come Earlier'
Their rollout in Abu Teeg, chosen because of its high poverty rate, drew a crowd of more than a thousand to the post office where money was being distributed. Using wooden sticks, security forces beat the crowd into a line. By 2 p.m., the cash had run out.
"I'll just come back tomorrow, there's no other way," said Hamdeya El-Husseiny, a 30-year-old mother of six, who had been there since 9 a.m. "I'll just come earlier."
El-Husseiny doesn't have a bank account, but she proudly showed two electronic cards in her wallet -- one for Takaful and another that entitles her to subsidized food.
Before the latter cards were introduced, Egypt used to sell subsidized bread, 20 loaves for 13 cents, to everyone, regardless of income. The system was notoriously wasteful, as people fed the cheap bread to cattle and chickens. Targeting via the smart-cards helped cut Egypt's wheat imports by as much as 20 percent, Minister of Supply Khaled Hanafy said in March. Similar cards for cheap gasoline were due to be introduced this month, though they've been delayed.
Wrong Data
For such programs to work, the government needs to know who's entitled to benefit. Otherwise there's a risk of the Iran scenario -- everyone gets the handouts, and the projected savings evaporate.
That requires good data, a problem in Egypt where "the data is a complete mess," according to El-Kabbag. She said the government is working on a "unified database" with information about family size, property, income and benefits.
"We're doing village profiles, research," El-Kabbag said. "But sometimes the data says something and you go in the field to find something completely different. This will take time."
Meanwhile, implementation couldn't wait, because the government was in a "big hurry" to get the program underway and avoid a backlash from the poor after last year's subsidy cuts, she said.
Before it's here, it's on the Bloomberg Terminal.
LEARN MORE