Abe Support Slips in Another Poll Amid Security Bills Campaign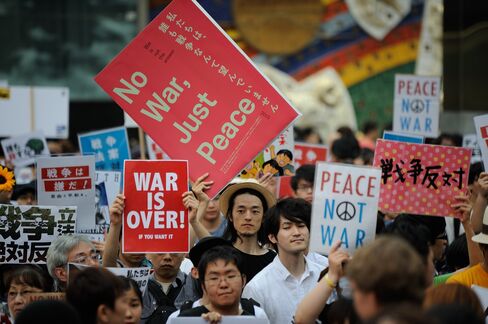 Prime Minister Shinzo Abe is losing public support over his push to pass bills that would loosen the shackles of the pacifist constitution to allow Japan to defend other nations.
Approval for Abe's cabinet dropped below 50 percent for the first time since his coalition's landslide election win in December, according to a Nikkei newspaper survey published Monday. About 57 percent of respondents opposed the passage of the legislation in the parliament session running through September, while 25 percent were in favor.
Thousands gathered in central Tokyo over the weekend to protest the legislation, about which 81 percent of respondents said there hadn't been sufficient explanation, compared with 8 percent who said there had been enough.
Separate polls over the past week have also signaled a slide in support for Abe. Such declines in public approval have proved troublesome for Japanese prime ministers over the past decade, with several predecessors -- including Abe himself in 2007 -- being forced to step down. Even so, the prime minister looks set to stand unopposed in an election for president of the ruling Liberal Democratic Party in September, the Yomiuri newspaper reported last week.
The LDP was dealt a self-inflicted wound earlier this month when a law professor called on to discuss the bills told parliament that they were unconstitutional. In an Asahi TV survey of 151 constitutional scholars earlier this month, 132 said the bills infringed on the constitution while only four said there were no doubts over their constitutionality.
The party dismissed its youth division head Saturday for holding a meeting at which members made disparaging remarks about the media, a move that Jiji news reported was probably made to avoid impact on the security legislations.
Support for the LDP dropped 5 percentage points from last month to 38 percent in the Nikkei poll, with that for independents climbing 9 points to 36 percent.
Before it's here, it's on the Bloomberg Terminal.
LEARN MORE