Tsipras Asking Grandma to Figure Out If Greek Debt Deal Is Fair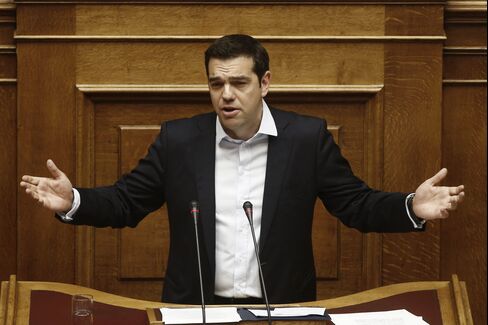 Economists with PhDs and hedge-fund traders can barely stay on top of the vagaries of Greece's spiraling debt crisis. Now, try getting grandma to vote on it.
That's what Prime Minister Alexis Tsipras is doing by calling a snap referendum for July 5 on the latest bailout package from creditors. The 68-word ballot question namechecks four international institutions and asks voters for their opinion on two highly technical documents that weren't made public before the referendum call and were only translated into Greek on Saturday.
Worse, they may no longer be on the table. International Monetary Fund chief Christine Lagarde told the BBC late on Saturday that ``legally speaking, the referendum will relate to proposals and arrangements which are no longer valid.''
Tsipras's decision means everyone from fishermen to taxi-drivers and factory workers will have to form an opinion on the package, with their country's economic future hanging in the balance. A rejection of the bailout terms could lead to an exit from the euro area and economic calamity; accepting them would probably keep Greece in the euro, but with more austerity.
"Usually in democracies, it's the technocrats and the politicians who take care of the details, while voters are asked about broader issues and principles," said Philip Shaw, the chief economist in London at asset manager Investec. "This is a transfer of responsibility from parliament to the voters."
Tsipras's surprise referendum came as lawmakers in his left-wing Syriza party voiced opposition to the bailout proposals and threatened to vote against them in parliament, potentially eroding his grip on power. Tsipras has said the proposals will add "unbearable weight" to Greece's troubles.
Opinion polls show a majority of Greeks support retaining the euro, although further tax increases and spending cuts have few supporters in a country with 25 percent unemployment that's seen its economy contract by a quarter since 2010.
The Question
Greece's referendum question will read as follows:
"Greek people are hereby asked to decide whether they accept a draft agreement document submitted by the European Commission, the European Central Bank and the International Monetary Fund, at the Eurogroup meeting held on June 25 and which consists of two documents:
''The first document is called Reforms for the Completion of the Current Program and Beyond and the second document is called Preliminary Debt Sustainability Analysis.
''- Those citizens who reject the institutions' proposal vote Not Approved / NO
''- Those citizens who accept the institutions' proposal vote Approved / YES.''
The two documents reflect the complexity of Greece's financial predicament. The first includes sections on ''parametric budgetary measures'' and ''unified wage grid reform.'' The second has a discussion of the methodological advantages of using ''gross annual financing needs'' to assess Greece's debt burden, rather than the more traditional debt-to-GDP ratio.
Heavy Responsibility
''What the government couldn't decide on after five months of talks, the Greek people will have to decide in five days,'' Antigone Limberaki, a lawmaker with small centrist party To Potami and an economics professor, said during a parliamentary debate on the referendum.
There have been almost no referendums on international bailouts of a country in financial crisis. Greece came close to one in 2011, when then-Prime Minister George Papandreou proposed and then canceled a plebiscite on a debt deal.
Before that, the last time Greeks went to the polls to decide a single question was in 1974, when they voted to retire their monarchy in favor of a presidential republic.
Some Greeks are concerned that the most important question isn't even on the ballot this time.
Euro Exit
''People will vote based on whether they want the harsh measures or not, they may not realize that they're actually voting on whether to stay in the euro," said Erato Spyropoulou, who waited in line at a National Bank of Greece AG cash machine in Athens to withdraw money on Saturday morning. "I don't want the harsh measures either. I'm in debt, but I don't want to leave Europe."
Investors are fretting about the same thing.
The ballot question "is dangerous in as much as it doesn't link the consequences to the question, i.e. potential [euro] exit," Josh O'Byrne, a strategist at Citigroup in London, wrote in a note to clients.
Eurogroup finance ministers have almost universally condemned the referendum plan, which Tsipras announced late Friday night without warning Greece's creditors.
Added Wrinkle
It leaves a broad range of questions for them and for the European Central Bank, which is providing emergency funds to keep Greek banks afloat.
There's another potential wrinkle in the ballot question. It's based on the state of play as of late this week, and thus on proposals that may no longer be on offer after Greece's bailout expires on Tuesday and if Greece misses a payment to the IMF due on the same day.
Given the lead time for printing and distributing ballot papers in a country of 10 million residents spread over 227 inhabited islands, that means voters could be asked their opinion on proposals that aren't even still on the table when they enter the voting booth.
Before it's here, it's on the Bloomberg Terminal.
LEARN MORE