If you're thinking of trying to join the All England Club, your best bet is to win the Wimbledon title.
Apart from achieving worldwide fame, all singles champions are made honorary members of the private All England Club in southwest London. The tennis club, which organizes the annual Wimbledon Championships, counts the Duchess of Cambridge -- the former Kate Middleton -- ex-Bank of England governor Mervyn King and singer Cliff Richard among its members. With a membership of around 565, and a waiting list of about 1,000, the odds of joining the club founded in 1868 and best known for its immaculately groomed grass courts and green-and-purple colors aren't good. The tournament starts today.
"The easy way to get in is to win it," said former British No. 1 Tim Henman, who joined 15 years ago.
Henman never reached the championship match even after playing in four Wimbledon semifinals between 1998 and 2002. He's one of the members who sit on the committee of management, which runs the only tennis major played on grass.
"I've been very lucky: My family have been involved in the game for a very long time," Henman said in an interview. "My mum and dad are members of the club. It's very much been a big part of my life for as long as I can remember."
For two weeks every summer, London life centers on the championships, held inside the grounds of the All England Club in a quiet suburb about eight miles south of Buckingham Palace. The event attracts almost half a million visitors, some of whom will camp out for days just to get a ticket to watch the tennis on a giant video screen on the hill outside Court No. 1.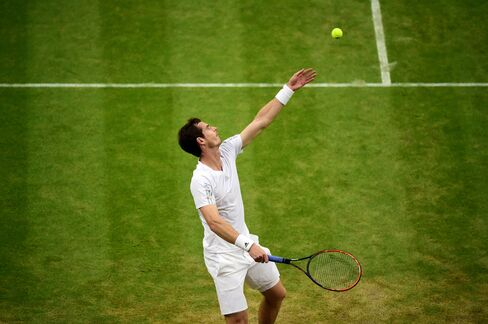 Today, five-time champion and world No. 1 Serena Williams is opening her bid for a fourth straight tennis major title against Russian Margarita Gasparyan. Men's top seed and defending champion Novak Djokovic is playing German Philipp Kohlschreiber.
The club's prize money pot for this year's event is 26.75 million pounds ($42 million), making it the richest grand slam tournament. It had operating profit of 56.1 million pounds in the year to July 31, 2014. Most of that will go to the Lawn Tennis Association to develop British tennis.
Membership Cap
The All England Club's full and life membership is limited to 375, based on the number of seats in its original Worple Road stand from which the club moved to its current Church Road location in 1922. There are 120 temporary playing members and 70 honorary members including the Duchess, past singles champions and people who have given special service to the sport.
"When they transferred here, they kept the numbers the same," All England Club spokesman Johnny Perkins said at Wimbledon last week. "If you have more members, you crowd the facilities."
With a cap on the full membership, spaces tend to open up only if someone dies.
"Once people are full members, very few will resign," said Perkins, who declined to give the cost of membership. "The easiest way to become a member is to win seven tennis matches."
No Jeans
Those who become full members will enjoy what the club calls "full privileges." This includes a dedicated seat on Centre Court, access to tickets, a full program of tennis and social events and use of some of the best tennis facilities in the world, including 37 grass courts tended by 20 groundsmen all year round, a gym and locker rooms with luxurious baths.
The club, which hosted the Olympic tennis event in 1908 and in 2012, has traditionally had strong connections with royalty. Queen Elizabeth II is the club's patron. Her cousin Prince Edward, the Duke of Kent, is the All England Club president and hands out the winner's trophies.
Per club rules, matches inside the grounds are always played in "predominantly white." Wearing jeans is frowned upon when entering its ivy-covered club house.
Aspiring full or temporary members must be proposed, seconded and supported by four full members, all of whom have to write a letter in support of the application. The applicant's name is then put on the waiting list. A committee will judge each application, with most temporary members eventually becoming full members.
"There isn't an average waiting time," Perkins said. "Every application is considered on its merit on an individual basis."
Although Perkins declined to provide a breakdown in terms of gender, nationality or profession, he said club membership is "very international."
'Normal Club'
Even as the All England Club hosts the world's most famous tennis tournament -- watched by millions around the world -- it sees itself as "a normal tennis club," Perkins said.
"The club plays matches against other clubs, and particularly our temporary members tend to be quite young," he said.

"This is not a City-driven membership," Perkins said. "You have to have an interest in tennis. Being a half-decent tennis player could swing it," particularly when it comes to temporary membership.
Still, not every tennis club will give its female members the chance to play a doubles match on Centre Court and Court No. 1, 2 and 3 -- complete with official linesmen and umpires -- the Saturday before the start of Wimbledon to break in the grass and test the equipment. Not even the sport's biggest stars -- such as five-time champion Serena Williams -- will have that privilege.
Quiet, Peaceful
"It took me many years to get in," Annabel Croft, a 1984 junior Wimbledon champion who now works as a broadcaster for Sky and Eurosport, said in an interview. "It's a real privilege to be a member there. It's got so much prestige and history to it."
Croft, who joined in 1993 and still plays at Wimbledon regularly, said the club is very different when the tournament isn't on.
"It's a quiet place, it's very peaceful," she said. "There is a wonderful atmosphere, you can go in and enjoy the facilities, you meet a lot of interesting people down there."
It's not uncommon for members to be rubbing shoulders with former champions, including 1987 winner Pat Cash or Andy Murray, who ended a 77-year wait for a male singles winner from the British Isles in 2013.
Read this next:
Wimbledon 2015: Bloomberg's Rolling Coverage
"He often trains here, and uses the gym," Perkins said about Murray, who is seeded third this year. "He pops in for tea, coffee or lunch. He can relax here, he's just one of them."
Before it's here, it's on the Bloomberg Terminal.
LEARN MORE