Renault Plans Alpine Revival With New Sports Car on Sale in 2016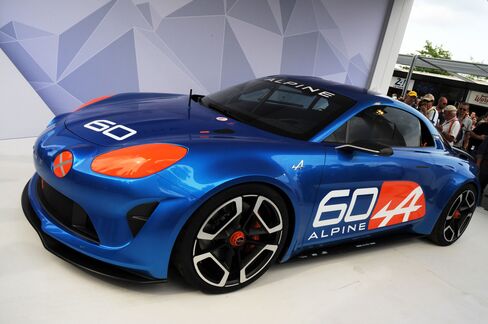 Renault SA is moving to revive its Alpine sports car after two decades in a bid to attract wealthier buyers and may put the first vehicle with the same brand on sale as early as next year.
"This is an initial project we're still working on," Bernard Ollivier, chief executive officer of Renault Alpine, said in a telephone interview Friday from the Goodwood Festival of Speed, a sports-car and vintage-vehicle show in Chichester, England, where the automaker is presenting the Alpine Celebration prototype.
The new prototype, whose front end resembles the Alpine A110 sold in the 1960s and 1970s, was unveiled two weeks ago outside the legendary endurance race in Le Mans, France. It will be shown and driven again in September in Dieppe on the Normandy coast as Renault commemorates the original model's introduction 60 years ago.
Renault plans to deliver the first Alpines at the end of 2016 or early 2017, with prices starting at 50,000 euros ($56,000). Initial production is targeted at 3,000 vehicles a year.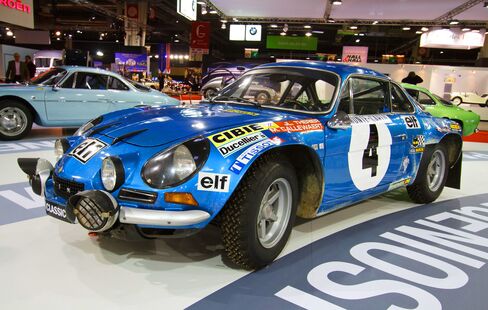 Some Alpine fans say they are ready to buy now, Ollivier said.
"A guy handed me a 30,000-euro check in Le Mans to book one," the executive said in an interview prior to the Goodwood event. "We're turning down this kind of order, but this is why we're confident."
The automaker, based in the Paris suburb of Boulogne-Billancourt, previously focused on emerging markets, selling low-cost vehicles under the Dacia marque in Europe.
The company is pushing to increase profitability by repositioning the namesake Renault brand, overhauling the lineup's look and transforming the Initiale Paris insignia into a separate luxury line. The Alpine's return is part of the shift.
"This won't be a retro car," Ollivier said. "It will have both the modernity of current sports cars and the heritage of the Alpine."
Before it's here, it's on the Bloomberg Terminal.
LEARN MORE