Economist Who Coined 'Grexit' Now Says Greece Will Stay in Euro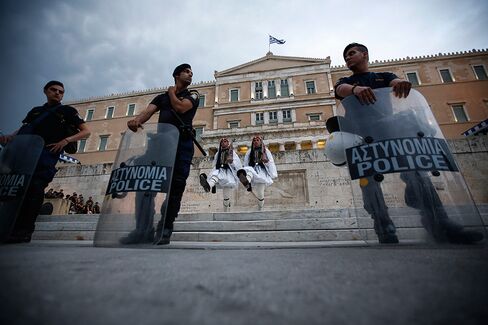 The man who coined the term "Grexit" in February 2012 to describe the risk of Greece leaving the euro area now thinks the country will stay after all.
"We expect the referendum to result in a comfortable majority for the 'Yes' camp, and expect no Grexit this year and a lower risk of Grexit in subsequent years," Citigroup Inc. economists including Ebrahim Rahbari wrote in a research note for clients on Sunday.
Their research was published after Greece Prime Minister Alexis Tsipras called a referendum on whether to accept more austerity in exchange for aid.
Three years ago, Rahbari and his colleagues put the probability of Greece leaving the currency bloc at 50 percent within 18 months. They later raised it to 90 percent by 2014.
The snap plebiscite announced for July 5 could end up being seen as a vote on Greece's membership in the euro.
Opinion polls show a majority of the Greek population supports retaining the single currency, although further tax increases and spending cuts have few supporters in a country with 25 percent unemployment that's seen its economy contract by a quarter since 2010.
"With a 'No' vote or an unconvincing 'Yes' vote, it is hard to see how a government willing and able to implement anything like the latest proposals of the institutions could be in place for the rest of this year," the Citigroup economists wrote.
At that point, "unless there is a change of government in Greece (or a major change of views among the institutions), the slide into Grexit would be very likely, even though it might take a long time," according to the research note.
Read this next:
Before it's here, it's on the Bloomberg Terminal.
LEARN MORE