Burundi Begins Parliamentary Vote as Opposition Vows Boycott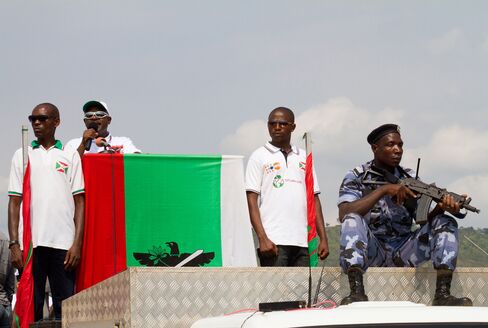 Burundi began a parliamentary election on Monday, the first in a cycle of polls the opposition is boycotting after President Pierre Nkurunziza's bid for a third term spurred two months of unrest in which 77 people died.
Polling stations opened at 6 a.m. for a day of balloting to select 103 lawmakers across the East African nation, electoral committee spokesman Prosper Ntahorwamiye said in a June 26 interview. As many as 3.6 million of Burundi's population of about 10 million are registered to vote, he said. He didn't say when the results will be announced. The country's main opposition groups said last week they won't participate in the poll nor in a presidential vote due July 15.
"We can't go to elections when there are armed people on the ground," Frederic Bamvuginyumvira, a former vice president turned opposition leader, said by phone. United Nations Secretary-General Ban Ki-Moon and the African Union have urged the government to consider postponing the vote.
Burundi has been roiled by unrest since the ruling party named Nkurunziza its presidential nominee in late April. Opponents say his bid to extend his tenure violates a two-term limit set out in peace agreements that in 2005 brought an end to a 12-year civil war. More than 100,000 people have fled to neighboring countries in the past three months.
The unrest in Burundi has the potential to destabilize the Great Lakes region that includes the Democratic Republic of Congo, Africa's top copper and tin producer, and Rwanda, where the economy is still recovering from a genocide in 1994.
Officials Flee
Security Minister Gabriel Nizigama said in a June 25 address on national television that the elections will take place as political talks continue, with security forces mobilized to protect polling stations.
The current head of parliament, Pie Ntavyohanyuma, said in an interview broadcast on France 24 on Sunday that he fled the country in fear of his safety after opposing Nkurunziza's third term. His departure follows Burundian Vice President Gervais Rufyikiri's announcement last week that he had left the country for similar reasons.
The U.S. on June 26 said it was freezing technical assistance offered to Burundi's elections board because of the absence of "conditions necessary for credible elections." The U.S. will consider reversing the move if Nkurunziza's government takes steps to improve the electoral environment, State Department spokesman John Kirby said in a statement.
Burundi, about the size of the U.S. state of Maryland, has a $2.7 billion economy. It's the continent's seventh-biggest coffee exporter and buyers of its beans include Starbucks Corp. The country also holds 6 percent of the world's nickel reserves, according to the African Development Bank.
Before it's here, it's on the Bloomberg Terminal.
LEARN MORE