Asian Investors Unruffled by Polish Politics Underpin Zloty Debt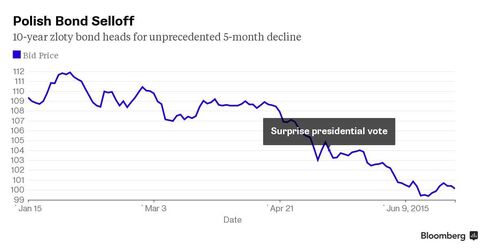 Political turmoil in Poland isn't stopping Asian investors from boosting holdings in the country's debt.
They bought more zloty bonds in the past two months even as a surprise presidential victory for the opposition party exacerbated a bond selloff since May, Poland's Finance Ministry said last week. Asian investors from Japan to Thailand, including central banks, almost doubled their positions in Polish bonds in the 12 months to April, ministry data show.
Asia has been filling the void left by U.S. and European investors who pulled out as prospects for higher Federal Reserve interest rates damped demand for riskier assets. Speculation is growing that Poles will vote out a government in the fall that steered the economy through the global financial crisis without a recession -- a fact that helped drive the premium investors demand to hold Polish debt instead of benchmark German notes to a 13-month high in June.
"Asian investors are taking a very long-term view," Peter Attard Montalto, an emerging-market strategist at Nomura International Plc, said by phone on June 25. "They may take a slight pause, but also see more attractive levels to enter now. Things can resume more speedily after the elections."
Polish bonds are headed for an unprecedented fifth month of declines, with yields on benchmark 10-year notes climbing to a 10-month high of 3.35 percent at 3:15 p.m. in Warsaw as Greece shut its banks and imposed capital controls in an announcement designed to avert the collapse of its financial system. That sent the premium over German bunds to 253 basis points, a 13-month high.
Long Term
Investors from Asia "are probably the most long-term oriented players in the local bond market," Piotr Dmuchowski, head of financial institutions sales at HSBC Holdings Plc's Polish unit in Warsaw, said by e-mail on June 26. "In the recent weeks we haven't actually seen any significant change in the activity from Asian accounts."
More than two-thirds of the inflows from Asia were generated by central banks, according to HSBC.
Still, some investors are concerned that Poland and other countries in emerging Europe may be negatively affected from stimulus efforts by the European Central Bank that could weaken the euro, Rajeev de Mello, who oversees about $10 billion as head of Asian fixed income at Schroder Investment Management Ltd. in Singapore, said by e-mail on Friday.
Investors from Asia increased holdings of zloty bonds to 47 billion zloty ($12.6 billion) at the end of April, or about a quarter of all foreign ownership, from 26 billion zloty a year earlier, according to Finance Ministry data. Institutions from the U.S. and the euro area both reduced their exposure by a total of 15 billion zloty in the same period.
More Buying
The flows from Asia have continued in the past two months, Bogdan Klimaszewski, deputy head of the public debt department at the Finance Ministry, said in London on June 24. The ministry presents a detailed breakdown of foreign-investor holdings with a two-month delay.
Finance Ministry officials last visited Asia in April, when they traveled to Singapore, Malaysia, Indonesia and Thailand, the ministry said in an e-mailed response to questions from Bloomberg News. They've flown to Asia twice a year in recent years, with a visit to Japan and South Korea in the fall and to other Asian countries in the spring, it said.
Economic Manifesto
Investors from Asia are drawn to Poland because it offers diversification into a "highly rated" European country, with positive real yields and declining debt levels, according to Nomura's Montalto.
Polish consumer prices will probably decline 0.5 percent this year, leaving a yield after adjusting for inflation of 3.85 percent on 10-year notes, according to data compiled by Bloomberg. That compares with real rates of 1.85 percent for Turkey and negative 3.86 percent for Russia, the data show.
Poland's public debt has been falling since 2010 to 45.6 percent of gross domestic product at the end of last year, according to government figures.
President-elect Andrzej Duda, supported by the Law & Justice party, vowed to back plans to raise the level of non-taxable income, introduce tax benefits for families and increase levies on banks. The party will announce its economic program at a convention on July 3-5.
Investors are now awaiting the party's "economic manifesto," Montalto said. "The presidential election has weighed on people's minds, but it hasn't derailed anything yet."
Before it's here, it's on the Bloomberg Terminal.
LEARN MORE