Powder Fire in Taiwan Park Injures Over 500 at Color Party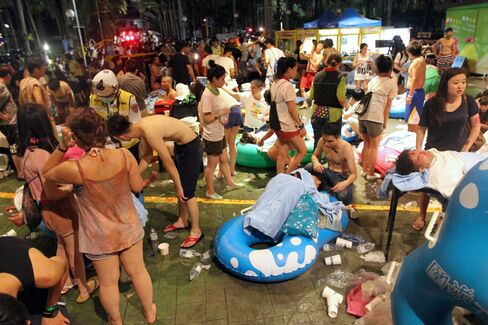 Colored powder caught fire in a park in Taiwan's New Taipei city on Saturday, injuring at least 500 among thousands of young people at a themed party.
Burn victims lay on inflatable pool rings at the Formosa Fun Coast recreational park as they waited for stretchers, footage on cable network TVBS showed. Some 510 people were hospitalized, of whom 183 were in intensive care, the Ministry of Health & Welfare said in a statement on Sunday.
Fire broke out about 8:30 p.m. local time as powder on the stage exploded, the ministry said in the statement. Amateur video captured by an attendee and broadcast on CTi TV showed colored powder being sprayed from a stage catching fire and spreading into areas where revelers were standing.
New Taipei City Mayor Eric Chu said at a news conference carried by cable TV networks that a thorough investigation into what caused the accident would be carried out. The police are investigating five people including the event's organizer and technicians, Central News Agency reported.
More than 10,000 young people had congregated at the venue for a color-themed party, according to TVBS.
Before it's here, it's on the Bloomberg Terminal.
LEARN MORE