Yevgeny Primakov, Russian Premier Under Yeltsin, Dies at 85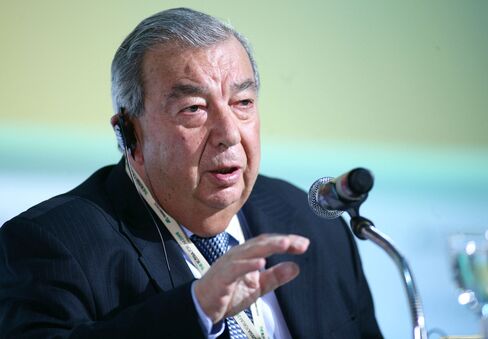 Yevgeny Primakov, the former Russian premier, foreign minister and KGB spymaster who negotiated a cooperation pact with NATO after fighting the alliance's expansion in eastern Europe, has died. He was 85.
Russian President Vladimir Putin expressed his condolences, Kremlin spokesman Dmitry Peskov told reporters on a conference call on Friday. Primakov died on Friday in Moscow's central clinical hospital after a long illness, his grandson Yevgeny said by phone.
Primakov was named prime minister in September 1998, a month after Russia defaulted on $40 billion of domestic debt and devalued the ruble. He was a compromise candidate after parliament blocked President Boris Yeltsin's first choice.
He was outspoken in defense of Russia's national interests, turning around his plane en route to the U.S. in 1999 to protest the threat of North Atlantic Treaty Organization air strikes against Serbian troops.
In a January 2015 article in state newspaper Rossiyskaya Gazeta, Primakov said Russia must keep the door open to working with the U.S. and its NATO allies. "We lose our country as a great power" without such cooperation, he said.
Russia should avoid "self-isolation" amid sanctions over the conflict in Ukraine, Primakov said. While retaining Crimea is non-negotiable, Russia is still interested in Ukraine maintaining its eastern regions, he said, warning that sending regular troops to support pro-Russia militias would only give the U.S. a reason to extend its sway in Europe.
NATO Expansion
Primakov "is without doubt one of the great statesmen and diplomats of both Soviet and modern Russian history," U.S. Ambassador to Russia John Tefft said in an e-mailed statement on Friday. "He will be missed."
As foreign minister from 1996 to September 1998, Primakov opposed NATO enlargement into former Soviet republics and eastern Europe, calling for guarantees that the alliance wouldn't deploy nuclear weapons or station troops close to Russia's borders. The NATO-Russia Founding Act on Mutual Relations, Cooperation and Security, signed in May 1997, fell short of his demands, while allowing for the creation of a permanent joint council.
In protest at NATO's offensive in Serbia, Primakov aborted his March 1999 trip to the U.S. to seek financial support from the International Monetary Fund. Yeltsin fired him in May, as Primakov gained popularity and backed investigations into claims the president's family took bribes.
Moscow Education
Yevgeny Maximovich Primakov was born on Oct. 29, 1929, in the Ukrainian capital, Kiev, and grew up with his mother in Tbilisi, Georgia. He never knew his father, according to his 2004 book, "Russian Crossroads: Toward the New Millennium."
Primakov graduated in 1953 from the Moscow Institute of Oriental Studies, a source of recruits for the KGB, the Soviet secret service.
In the 1960s, he worked as the communist newspaper Pravda's correspondent in the Middle East and then headed the Soviet Academy of Sciences' Institute for Oriental Studies and later the Institute of the World Economy and International Relations.
After Iraq's 1990 invasion of Kuwait, Primakov visited Baghdad as Soviet leader Mikhail Gorbachev's special envoy to the Middle East and met with Saddam Hussein, whom he had known since the 1960s.
Primakov, who spoke Arabic, was recognized as an expert on Middle Eastern and Central Asian affairs. He headed Russia's external intelligence service, the SVR, from 1991 to 1996, when Aldrich Ames was unmasked in 1994 as a mole within the Central Intelligence Agency.
Primakov lost his first wife, Laura Vasilievna Kharadze, to heart disease in 1987. He married his second wife, Irina, seven years later. Primakov had a daughter, Nana, from his first marriage. His son, Alexander, died of a heart attack at age 27 during a May Day parade in Moscow in 1981.
Before it's here, it's on the Bloomberg Terminal.
LEARN MORE