Whichever Way You Look, China's in a Bear Market
Chinese stocks have blown through a bear market trend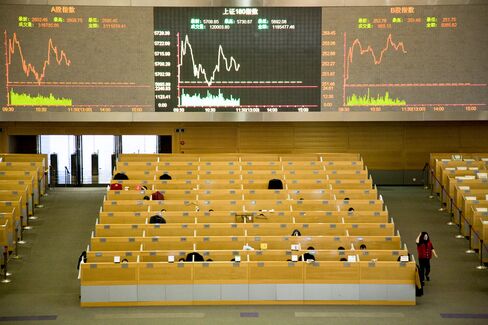 In finance, in particular the Black–Scholes model, changes in the logarithm of exchange rates, price indices, and stock market indices are assumed normal (these variables behave like compound interest, not like simple interest, and so are multiplicative). However, some mathematicians such as Benoît Mandelbrot have argued that log-Lévy distributions which possesses heavy tails would be a more appropriate model, in particular for the analysis for stock market crashes. Indeed stock price distributions typically exhibit a fat tail. -- Log-normal distribution, Wikipedia.
When does a bull market become a bear market?
We can't predict the turning point. We can't even define the up-bull or the down-bear trend. It is widely presumed that the U.S. has been in a bull market since the the bad old days of early 2009. Equities have advanced: Apple is up 980 percent in the six years since, or, did Apple's bull market start in October 2004 or, for that matter, June 2013?
About all we can say is bell-curve mathiness is less helpful when the slope up is similar to the slope down. History, fancy math, and brutal experience suggest the bear market slope down is steeper than the bull slope upward.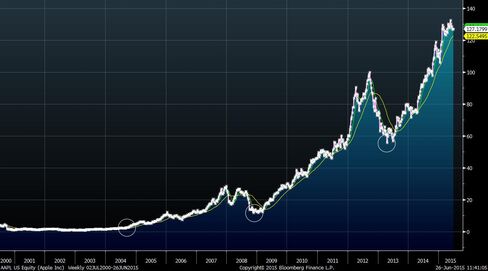 Which brings us to China:
I am often told that the rapid rise of the Chinese stock market is not something to worry about. I'm not scared of the market; I am scared that everyone is certain I have no reason to be scared. Here is the Shenzhen Composite Index. It is 1,765 stocks valued at 62 times their earnings. That is elevated and 3.3 times the Standard & Poor's 500 Index.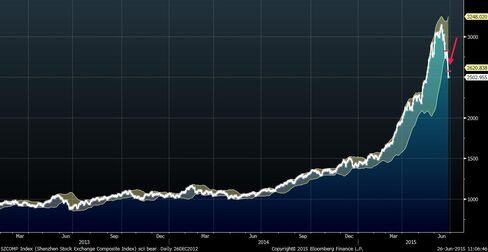 Here is a zoomed in view of recent weeks: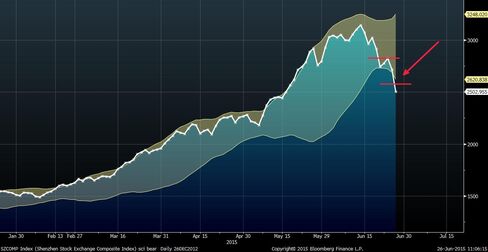 Because there is so little agreement on what is a bear market, there are conventions, signposts, that guide us when it comes to these matters. Shown in the above train wreck is a 10 percent "correction" and a follow-on, 18 percent "bear market." The chart is beyond elegant. ("Elegant" being chart/math talk that the time series is doing hugely predictable, after-the-fact things.) Note, the rebound after China goes through the 10 percent level and then "kisses" the said "correction" line. This makes technical analysts swoon.
Critically, it is highly questionable to overlay a standard analysis on each and every "market." Should you treat gold like the Dow Jones Industrial Average?
No.
Overlaid on the stock chart, is a matrix of two standard deviations of the agitation, or volatility, of the series. China has blown through a correction; blown through a bear market; and has blown through two standard deviations of volatility. Late arrivals have now seen their recent profits blowing in the wind. This is not good. I am most concerned about the way this index has violated its trend and cratered through the lower volatility barrier (the red arrow).
I believe in a mix of technical and fundamental analysis mixed with good economics. Pure technicians think I am nuts.
I will consider the above charts, combined with my guess of fundamentals, combined with how I believe economics will affect China.
Discuss.
Before it's here, it's on the Bloomberg Terminal.
LEARN MORE