Ever tasted a wine made from "dragon eyes" grapes?
Neither had I, until I attended a packed seminar and tasting of Chinese wines at trade fair VinExpo last week.
I started out curious but skeptical, as most of the country's wines I'd sampled previously were largely forgettable, especially those made from Chinese hybrid grapes with similarly poetic, unusual names like French Wild and Rose Honey.
People outside China don't know much about these wines because so few have been exported. Only in the past couple of years have a handful grabbed medals in international wine competitions and gained media attention. Many others were (and still are) poor, thin, lacked fruit, and often suffered from basic winemaking faults.
To my surprise, all 17 whites, reds, and sweeties poured were impressive. Although I didn't find a great one, I did find several very good wines well worth trying. (See tasting notes below.)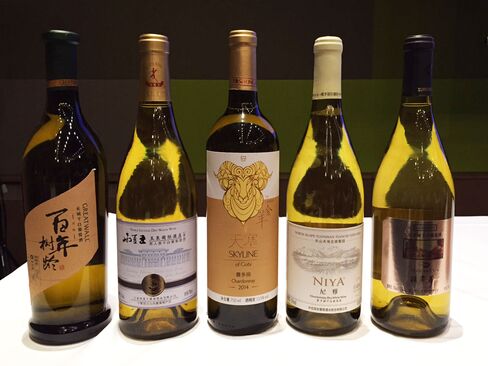 A Tasting in Context
Keep in mind that the point of the tasting, a first at VinExpo, was to improve the image of Chinese wine and convince the international wine trade elite that the country isn't only content to knock back bling bottles of expensive French Bordeaux and Burgundy.
The tasting was also a collaboration between the European Committee of Wine Companies (CEEV) and the China Alcoholic Drinks Association, part of last year's settlement of a European Union and China trade dispute on wine. China dropped its investigation into the alleged dumping of European wine imports in China in exchange for technical and marketing advice.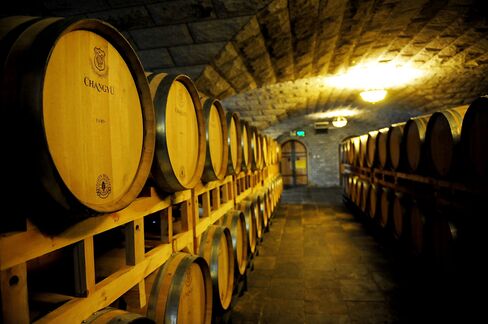 The whole event was essentially a crash course in how seriously the Chinese are aiming for their own spot on the world's wine map.
Here's a stunning fact passed on by moderator Demei Li, associate professor of oenology at Beijing Agricultural College: China now has more acres of vineyards than France. It's the world's fifth-largest wine-consuming country and the eighth-largest wine producer, pumping out 130 million 9-liter cases annually, according to the latest VinExpo/IWSR statistics. Some of France's best producers, like Château Lafite-Rothschild, have invested there.
Once that's sunk in, consider China's winery-building boom. Giant Chinese companies have invested tens of millions in enormous French-style wine chateaux in every region, even up in Liaoning near the North Korean border.
Modern Wines
Yet the history of modern grape wine in China started only about a century ago in Shandong province near Beijing where Zhang Bishi founded the Changyu winery in 1892. In recent years, adventurous wineries have rapidly moved outward to explore the country's vast possibilities for great terroir. Wines I tasted came from Ningxia, 550 miles west of Beijing in central China; Liaoning; and Xinjiang, the desert region in the far northwest that's home to the Uyghurs.
So far, Ningxia is the region that's drawn the most attention for quality wine potential, so it was no surprise that almost half the wines in the tasting came from this area that might turn out to be China's Napa Valley. Last year it began a program of enlisting winemakers from around the world to advise local wineries, even going so far as to name chateaux after them.
With lots of sun, 1,100 meters of altitude, hot dry summers, and the Yellow River for irrigation, Ningxia has ideal grape-growing conditions, similar to New World locations in Argentina and Chile—except that it also has harsh, freezing winters so cold that the vines have to be buried in the earth to survive until spring. Other producers are betting on Yunnan province, with new vineyards at altitudes of 2,000 to 3,000 feet. LVMH has invested in a new winery there, close to the Tibet border.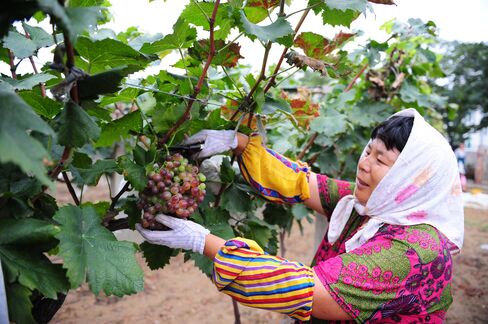 Red Country
China is basically red wine country. According to VinExpo statistics, more than 91 percent of the wines the Chinese drink are red, but in the tasting I found several whites showed serious potential. The most popular grape is cabernet sauvignon, but wines made from aglianico and syrah are coming soon.
The first wine we tasted, a white made from local table grape longyan (which means "dragon eyes"), reminded me a little bit of gewürztraminer. A grape name new to me was cabernet gernischt, a widely planted red in China. It's now thought to be the same as carménère, a grape popular in Chile, but in China the wines sometimes have an unattractive green, peppery taste.
Among the wines in the tasting that most impressed me were several from Changyu, China's oldest and largest commercial winery, which planted vineyards with imported vine cuttings from France.
The company now has some 35,000 hectares of vineyards—more than one-quarter the area of all Bordeaux's vineyards—located in several of the country's major wine-growing regions such as Ningxia, Liaoning, Penglai peninsula, and Yinjiang. Two years ago, the company unveiled a new 70 million-euro winery in Ningxia province.
After the tasting, I stopped by the huge, square Changyu stand, the company's debut at VinExpo. A wall of photographs showing world leaders sampling Changyu wines at state banquets trumpeted a loud message: If Francois Hollande, President Obama, Angela Merkel, David Cameron, Joe Biden, and Vladimir Putin can drink these wines, what's holding you back?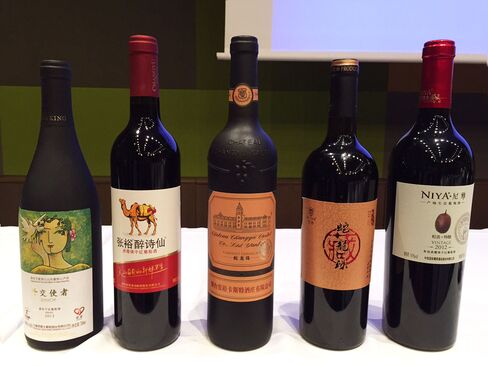 Tasting Notes of Top Chinese Wines
2012 COFCO Great Wall Centenary Old Vine
Made from vines nearly 100 years old in Hebei close to Beijing, this easy white is light, fresh, and tangy, with peachy aromas.
2011 Yin Guang-xia Premium Selection Chardonnay
This rich, opulent, almost buttery white comes from the Yinchuan area of Ningxia where lots of chardonnay is planted.
2013 Tiansi Vineyards Skyline of Gobi Cabernet Franc
Dark and elegant, with some herbal, tobacco-y flavors, this red from Xinjiang is bottled at the end of December for the Chinese New Year.
2013 Xixia King Envoy of Merlot
Round, bright, spicy, with definite hints of wood aging, this Ningxia red has won several awards in the U.K. and France.
2013 Changyu Dionysus Drunken Cabernet Sauvignon
Made in Xinjiang province, this appetizing, satisfying dark red tastes of herbs and cassis.
2011 Changyu Golden Icewine Valley Vidal ($60)
Rich, sweet, and opulent, this ice wine made from frozen grapes grown in Liaoning rivals good Canadian ice wines.
Before it's here, it's on the Bloomberg Terminal.
LEARN MORE