Superspreaders Spawn Korean Outbreak With 21% Death Risk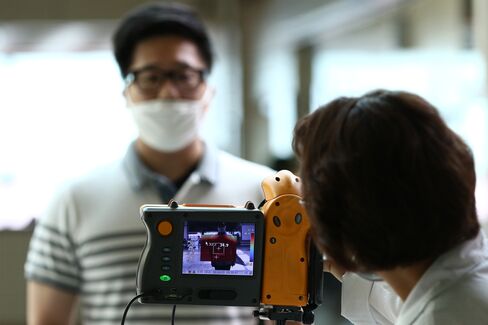 South Korea's MERS outbreak was fanned by three "superspreaders" and followed a pattern of transmission similar to the SARS epidemic more than a decade ago, researchers in Hong Kong found.
In the largest outbreak outside the Arabian Peninsula, the Middle East respiratory syndrome coronavirus has infected 181 people and so far killed 31, the Korea Centers for Disease Control and Prevention said Friday. About one in five of the cases will probably be fatal, Benjamin Cowling and colleagues at the University of Hong Kong wrote in a study.
With the outbreak appearing to be ending, public health authorities may start to probe how a deadly disease was allowed to spread so quickly, the authors said. At least three-quarters of the cases can be attributed to clusters in hospitals started by three highly infectious people, or superspreaders. The index patient spread the virus to 27 people in one hospital alone.
"This outbreak demonstrates the potential for clusters of emerging infectious diseases to have very substantial societal and economic impact," wrote the researchers, who work at the university's World Health Organization Collaborating Centre for Infectious Disease Epidemiology and Control. The parallels with "the spread of SARS in 2003 in Hong Kong and Singapore emphasize the importance of understanding these events" to prevent their recurrence in future.
South Korea announced a stimulus package Thursday of more than 15 trillion won ($13.5 billion) to cushion the economic impact of the disease, which forced the finance ministry to cut its outlook for economic growth this year to 3.1 percent.
Fatality Risk
The virus, first detected in in the Middle East in 2012 and thought to originate in camels, has an average incubation period of 6.7 days, according to the authors, who analyzed publicly available data from the Korea CDC, the Korean Ministry of Health and Welfare, the WHO and local Korean news reports. They found infected people aren't likely to spread the virus to others before they start feeling unwell.
As of June 19, 24 people had died of the disease, 30 had recovered and been discharged and 112 remained in the hospital, 16 of whom were in critical condition, according to the study in Thursday's Eurosurveillance, a weekly online journal on infectious diseases published by the European Centre for Disease Prevention and Control in Stockholm.
One of the superspreaders, identified as case No. 14, who contracted the disease from the index case passed the virus to at least 70 others in the emergency room of one of Seoul's five largest hospitals. Both the index case and case No. 14 have been discharged from the hospital.
Visited Hospitals
Another patient, identified as case No. 16, spread it to 24 others, the researchers at the University of Hong Kong said.
Chungnam National University Hospital today sent a press release dated June 24 saying that No. 16, a 40-year-old man, has "fully recovered after pneumonia treatment" and is awaiting test results that will determine whether he can be discharged.
Superspreaders all presented with symptoms of pneumonia when they first visited hospitals though their MERS diagnosis was delayed, Jacob Lee, a professor of infectious disease at Hallym University Kangnam Sacred Heart Hospital, told a government briefing Tuesday.
Lee identified five patients as superspreaders and said it took an average of 8.2 days from the day they started showing symptoms until they were confirmed to be carrying MERS, whereas the average for 93 patients was 4.6 days.
None of the first 24 fatal MERS cases in South Korea involved health-care workers, Cowling and colleagues said. Nineteen of them were 60 years or older and 17 were male.
MERS Fear
More than 1,300 laboratory-confirmed cases of MERS have been reported worldwide since 2012, including at least 475 deaths, according to the Geneva-based WHO, which said the virus hasn't developed the ability to spread easily between people. In contrast, influenza kills 250,000 to 500,000 people a year.
"MERS reminds us of the massive amount of fear that emerging infectious diseases can provoke," said Cowling, an associate professor of infectious disease epidemiology, in an interview. "While the number of people that die from illnesses like influenza or other infections in South Korea is many times greater than those that died from MERS -- you see much greater societal and economic impact from MERS."
-- With assistance from Sam Kim in Seoul
For more, read this next:
Before it's here, it's on the Bloomberg Terminal.
LEARN MORE