This year, steak-loving Venezuela has gone from being the world's second-biggest cattle importer to bringing in almost none, according to the U.S. Department of Agriculture. A drop of 127,000 cows so far this year.
Like everything else that's happening in Venezuela right now, you can blame it on the plunge in oil prices.
The drop in the country's most valuable export has ravaged its foreign reserves, leaving it with few dollars to import non-essential foods. Reserves are near a 12-year low at $16.3 billion, having fallen more than one billion dollars in the past month alone.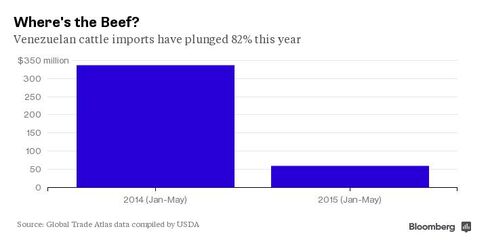 The local meat industry isn't doing much better. Slaughter of domestic cows almost halved in April to about 31,000 heads, according to the National Meat Packers Association. Shortages of everything from vaccines to transport, lack of financing and price controls have decimated the once mighty Brahman cow herds that roamed Venezuela's lush savanna.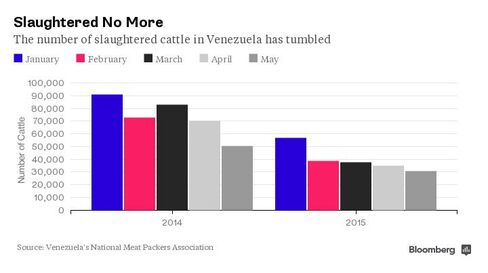 The government fixes the price of a kilogram (2.2 pounds) of first class beef at 250 bolivars, or $1.3 at the weakest official exchange rate. Such low prices have left supermarket shelves bare, with suppliers diverting meat to the unregulated butchers where the same meat fetches up to 10 times the price.
For the Socialist government that prides itself on raising consumption, this is a big problem. The late President Hugo Chavez and his hand-picked successor Nicolas Maduro have clung to power for 16 years through a military coup, oil workers' strike, natural disasters and industrial decline by giving the country's poor more and better food and housing. And nothing speaks well-being like a big juicy steak.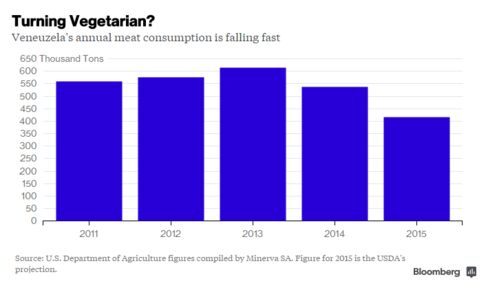 Agriculture Minister Yvan Gil has boasted that an average Venezuelan ate three times more meat in 2012 than before Chavez, consuming 90 kilograms per year.
Those gains have been declining ever since. Even before the slump in imports, per capita consumption of beef and chicken tumbled 10 for low-income earners in the 18 months to June 2014, according to the latest data available at the National Statistics Institute.
"For many years the government has been using food as a political tool,'' prioritizing imports at the expense of national production, said Otto Gomez, the president of Venezuelan Meat Council, a trade group. "When the oil price falls, like it has now, such programs are impossible to maintain."
— With Nathan Crooks and Andrew Rosati.
(An earlier version of this story mislabeled the unit of measurement in the final chart.)

Before it's here, it's on the Bloomberg Terminal.
LEARN MORE