S&P 500 Spending on Buybacks, Dividends Exceeds Operating Profit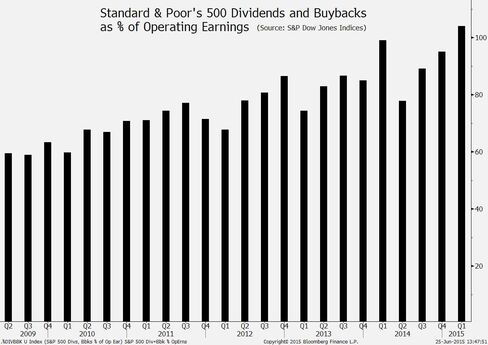 Companies in the Standard & Poor's 500 Index have started paying out more money to shareholders than they produce in operating earnings, according to data compiled by S&P Dow Jones Indices.
The attached chart tracks S&P 500 companies' quarterly spending on share repurchases and dividends as a percentage of operating profit since the second quarter of 2009, when stocks started their current bull market.
Buybacks and dividends surpassed 100 percent of earnings last quarter for the first time since shares began rising, as shown in the chart. S&P 500 companies spent $144.1 billion on share repurchases and paid out $93.6 billion of dividends. The total equaled 104.1 percent of profit, up from 95.1 percent in last year's fourth quarter.
The increase reflects a reliance on repurchases to spur earnings-per-share growth, according to Howard Silverblatt, a New York-based senior index analyst at S&P Dow Jones. He cited figures showing more than 20 percent of S&P 500 members cut the amount of stock outstanding last quarter by at least 4 percent from a year ago, as they had in the previous four quarters.
"They're getting a lot more pressure to do buybacks," Silverblatt said yesterday in an interview. "It's almost an entitlement program from an investor standpoint." Repurchases will probably stay at current levels through year-end as many companies buy shares to offset expiring options, he added.
Shareholder payouts previously rose above 100 percent of operating earnings in the second quarter of 2007. Two quarters later, the figure peaked at 156.5 percent of profit -- and the bull market ended.
Before it's here, it's on the Bloomberg Terminal.
LEARN MORE