Pimco's Hodge Says Flows Pointing Up as Uncertainty Wanes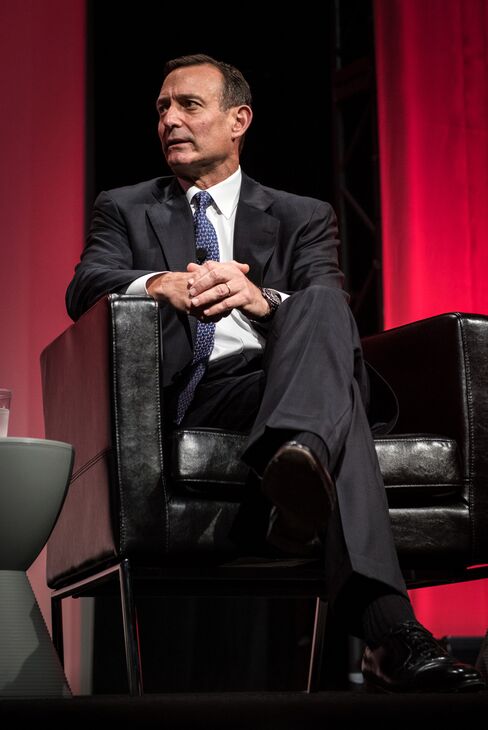 Douglas Hodge, the chief executive officer of Pacific Investment Management Co., said investors are returning to the money manager as uncertainty has waned following Bill Gross's abrupt departure last year.
The "trajectory of flows has changed significantly over the last nine months," Hodge said Friday at the Morningstar Investment Conference in Chicago. Assets at the firm are at about $1.7 trillion, Hodge said. The firm had $1.59 trillion in assets as of March 31.
Pimco's assets tumbled from a peak of about $2 trillion in April 2013 as investors moved money in anticipation of rising interest rates. The withdrawals accelerated after Gross left Pimco on Sept. 26 for Denver-based Janus Capital Group Inc.
"Change creates uncertainty. In our industry that is expressed by moving money," Hodge said. "Anxiety has come down dramatically so the money starts to flow back."
Pimco's flagship Total Return Fund, which this year lost the title of the world's biggest bond mutual fund, faced record redemptions after Gross quit. The withdrawals abated in May to $2.7 billion, the lowest level since July 2014. The fund, now run by Scott Mather, Mark Kiesel and Mihir Worah, has returned 0.2 percent this year, outperforming 66 percent of similarly run funds, according to data compiled by Bloomberg.
Rising Rates
Daniel Ivascyn, group chief investment officer who took over from Gross after his departure, said at the same conference he expects the Pimco Total Return fund to rise to the top and that there is still room for core bonds amid rising interest rates.
Hodge, who became CEO of Newport Beach, California-based Pimco in 2014 after Mohamed El-Erian left that role, said investors are hungry for income and concerned about high interest rates, so are crowding into bonds with shorter maturities. There are fewer financial incentives to buy bonds with longer time frames, including five and 10 years, he said.
Before it's here, it's on the Bloomberg Terminal.
LEARN MORE