Patrick Macnee, Dick Van Patten, Mario Biaggi: Obits This Week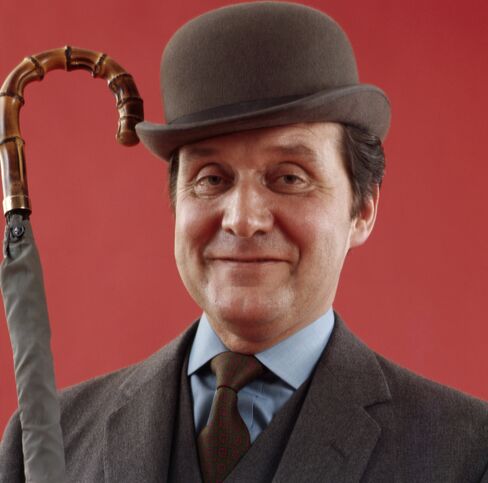 This week's notable deaths included the British actor who starred in "The Avengers" television show in the 1960s; the entertainer who portrayed the patriarch in the comedy series "Eight Is Enough" on U.S. TV; and the former New York congressman who won landslide election victories before his imprisonment on corruption charges. Below are summaries of these and other obituaries.
Patrick Macnee, 93. British performer best known as bowler-wearing secret agent John Steed in "The Avengers," which aired from 1961 to 1969. His neo-Edwardian wardrobe, paired with assertive and alluring co-stars such as Honor Blackman and Diana Rigg -- often clad in tight leather body suits -- gave the show a style that helped define the Swinging Sixties. Died June 25 in Rancho Mirage, California.
Dick Van Patten, 86. The round-faced comic who portrayed a harried suburban father of eight children in the situation comedy "Eight Is Enough." The show aired on ABC from 1977 to 1981. The native New Yorker started his career as a model and child actor, appearing on Broadway in 1935 at age 7. Died June 23 in Santa Monica, California, of complications from diabetes.
Mario Biaggi, 97. Democratic congressman who represented the Bronx, New York, for 10 terms, sometimes winning 90 percent of the vote. His career ended in disgrace in 1988, when he resigned his seat following convictions in two corruption scandals. The one-time New York City police officer was sentenced to eight years in prison and released after 26 months because of a heart condition. Died June 24 at his home in the Bronx.
Yevgeny Primakov, 85. Named prime minister of Russia by President Boris Yeltsin in September 1998, he was fired less than a year later as his popularity grew and he backed investigations into corruption among Yeltsin's relatives. He served as foreign minister from 1996 to 1998, negotiating a cooperation pact with NATO after opposing its expansion into former Soviet republics. Died June 26 at Moscow's central clinical hospital after a long illness.
James Horner, 61. The U.S. composer who won Academy Awards for best musical soundtrack and best song in the 1997 blockbuster "Titanic." He wrote scores for more than 100 movies, including "Field of Dreams," "Apollo 13" and "Aliens." A music scholar who taught at the University of California at Los Angeles, he composed themes for a dozen TV shows. Died June 22 when the plane he was flying crashed in the Los Padres National Forest in Southern California.
Don Featherstone, 79. Painter and sculptor who created the pink plastic lawn flamingo. He designed what became a symbol of suburban kitsch in 1957 while working at Union Products Inc., in Leominster, Massachusetts. The design was based on photographs of the bird in National Geographic magazine. He worked at Union for 43 years, rising to president before retiring in 1999. Died June 22 at an elder care facility in Fitchburg, Massachusetts. The cause was Lewy body dementia.
Harvey Pollack, 93. Known as "Super Stat," he started the tallying of rebounds, steals, blocked shots and turnovers for the National Basketball Association. He worked for the Philadelphia 76ers since 1963 as head of media relations and director of statistical information. He coined the term "triple double" for when a player's points, rebounds and assists in a game all reach 10 or more. Died June 23 in Philadelphia at Hahnemann University Hospital. The cause was sepsis.
Darryl Hamilton, 50. During his 13 years as an outfielder in Major League Baseball, he played for the Milwaukee Brewers, Texas Rangers, San Francisco Giants, Colorado Rockies and New York Mets. He retired in 2001 -- after helping the Mets win the pennant the previous year -- and joined the MLB Network as a studio analyst. Found dead at his home in Pearland, Texas, of gunshot wounds. The woman he lived with was also found dead, apparently from a self-inflicted gunshot.
Red Mascara, 92. Born Joseph Rocco Mascari, he spent 55 years trying to persuade New Jersey lawmakers to adopt a tune he wrote as the official song of his native state. A bill naming Mascara's "I'm From New Jersey" as the official anthem was passed by the legislature in 1972 and vetoed by then-Governor William Cahill. A similar bill passed the Senate in December but hadn't been scheduled for a vote by the Assembly. Died on June 20 of a stroke.
Before it's here, it's on the Bloomberg Terminal.
LEARN MORE