Why Wall Street's Women Are Stuck in the Middle
Banks say all the right things about promoting women, but the numbers tell a different story.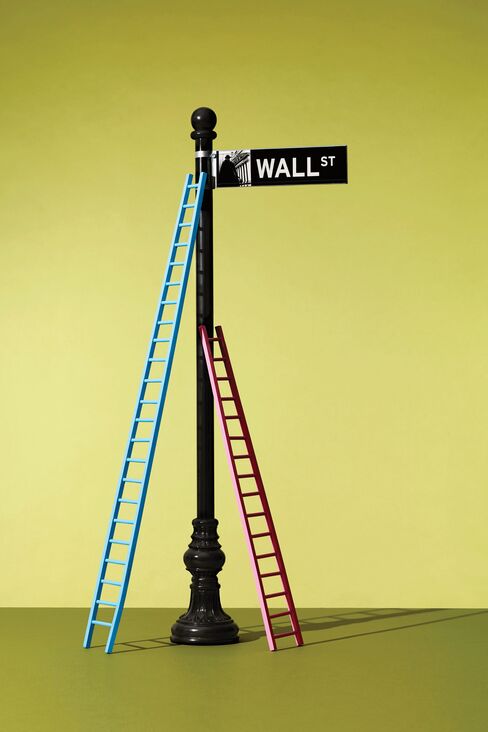 The first woman to run a Wall Street firm could be a behavioral scientist, a mathematician, or an engineer.
Three women with these backgrounds—Karen Peetz, president of Bank of New York Mellon; Mary Callahan Erdoes, chief of asset management at JPMorgan Chase; and Avid Modjtabai, head of consumer lending at Wells Fargo—are all currently within striking distance of the CEO suite.
Then again, none of them may get there. After all, no woman has ever been CEO at one of the 22 largest U.S. investment banks or financial firms, and none of these three female executives wanted to speculate on her chances.
Women have been close to the top of Wall Street firms before, only to get derailed or swatted away. Both Zoe Cruz, president of Morgan Stanley, and Sallie Krawcheck, head of Citigroup Global Wealth Management, lost their jobs following the financial crisis. Ina Drew, another contender, left JPMorgan Chase in 2012 amid the London Whale scandal. And earlier this year, Ruth Porat, Morgan Stanley's chief financial officer, whom many considered a potential CEO, said she would instead decamp to Google for a $70 million paycheck.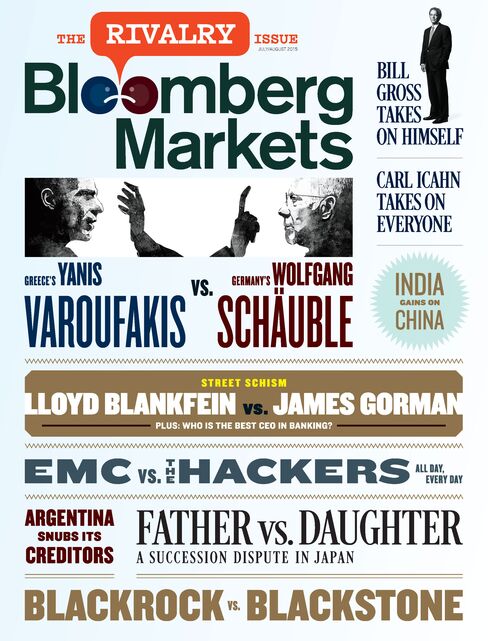 Banks have certainly come a long way since the 1980s, when Goldman Sachs apologized after a Stanford University student said one of its recruiters asked her if she would have an abortion to save her job. Many banks now employ diversity chiefs and brag about affinity groups, parental leave, return-to-work programs, and Lean In Circles.
"I see more banks looking into increasing the level of senior women," says Elisabetta Bartoloni, a partner at headhunting firm Heidrick & Struggles. They're motivated in part by studies that have shown having diverse management helps companies achieve better results, she says.
But talk is cheap, and Wall Street's woman problem runs deep. So deep, in fact, that it begins even before recruiting starts.
Consider this: 34 percent of MBA graduates are women. That's up from 28 percent in 2002 but still far below the near parity in other fields such as medicine and law, according to the Forté Foundation, a consortium of business schools and companies, including Citigroup and Goldman Sachs. (An MBA is still a prerequisite for many investment-banking jobs.) And only about 20 percent of those female business school graduates say they'd even consider a career in financial services, compared with 36 percent of men, according to research by Universum Global. What's more, that disparity has been increasing in recent years.
Selling women on a career in investment banking should begin as early as their freshman year in college, says Elissa Ellis Sangster, head of the Forté Foundation. "You've got to build the pipeline early," she says.
When women do apply for banking jobs, they're just as likely to get them as men are, says Matthew Bidwell, a professor of management at the University of Pennsylvania's Wharton School who has studied gender in finance careers. However, he adds, "women are less likely to apply because they see that 'there's nobody like me' at the senior levels."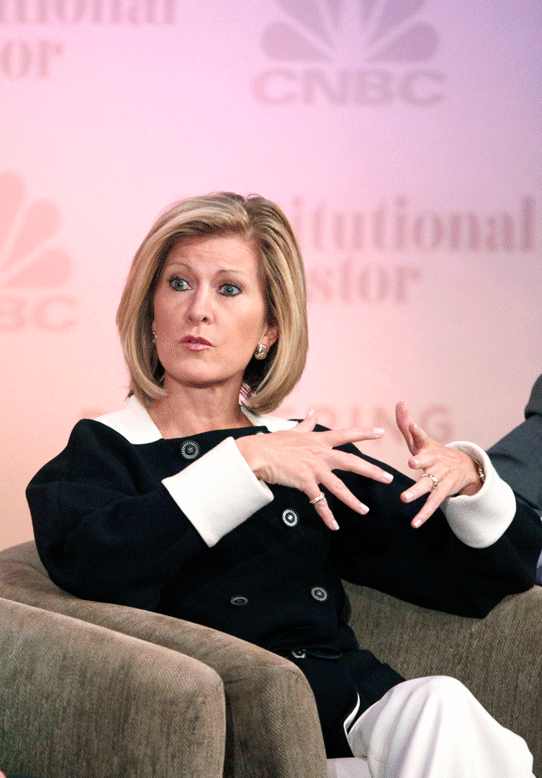 As women move to the middle ranks, things start to get even trickier. That's when what's called the leaky pipeline becomes especially evident, Bidwell says: "It's not feeding them through quickly to the highest levels."
One common explanation is that women drop out of Wall Street in their 30s to start families. That's not borne out by reality, says Pamela Stone, a Hunter College sociology professor. In a study Stone co-authored last year, which looked at 25,000 Harvard Business School MBAs, only about 11 percent of women actually left their jobs to stay home with children. More often than not, Stone says, women at investment banks saw few opportunities for advancement and moved to other fields that let them have more of a life. "They need stay policies, not leave policies," says Stone.
Grueling hours wore down Tamara Abed, who worked in mergers and acquisitions at Goldman Sachs after earning her MBA at Columbia University in 2001. "I found it quite soulless," Abed says. She had been an investment banker in Asia and knew long hours were involved. But Wall Street was of a whole different magnitude. "You had to write off your life," she says, recalling evenings when she slept under her desk. Abed quit after less than a year and is now a senior manager at BRAC, a nonprofit organization based in Bangladesh and founded by her father.
Even among the women who stick it out, fewer advance to the senior level, a condition that's worsened since the financial crisis. Women made up 48 percent of midlevel managers in 2013 but accounted for just 29 percent of senior officials in finance and insurance, according to data collected by the Equal Employment Opportunity Commission. Those numbers were worse than in 2007, the earliest comparable year available, when women accounted for 30 percent of senior managers and 49 percent of midlevel managers. The pipeline is even narrower among the 22 largest firms, where women comprise just 16.6 percent of senior managers.
One whose career stalled was Yiming Wang, who spent almost six years on Wall Street as a portfolio analyst. "I got pigeonholed in a job that was tedious and boring," she says. In 2010, she quit to start a Chinese restaurant in Manhattan that later earned a Michelin star. "It's a completely new life," she says, smiling as she surveys her newly opened second eatery, China Blue, in Tribeca. "I'm in love with it."
The few women who've managed to make it near the top advise those lower down to power through. "Almost everyone in this career will encounter moments where they're told they are average or below average," says Barbara Byrne, vice chairman of Barclays Capital, who held the same post at Lehman Brothers before it was acquired. "Men will get angry; women will oftentimes quit." Instead, they should project confidence, even if that doesn't come naturally, says Byrne, 60. At Barclays, she's gathered about 25 young women investment bankers together for training that aims to teach them how to command a room—whether of clients or co-workers. "It's creating a cadre of women who can bond together, so they know they're not alone," she says.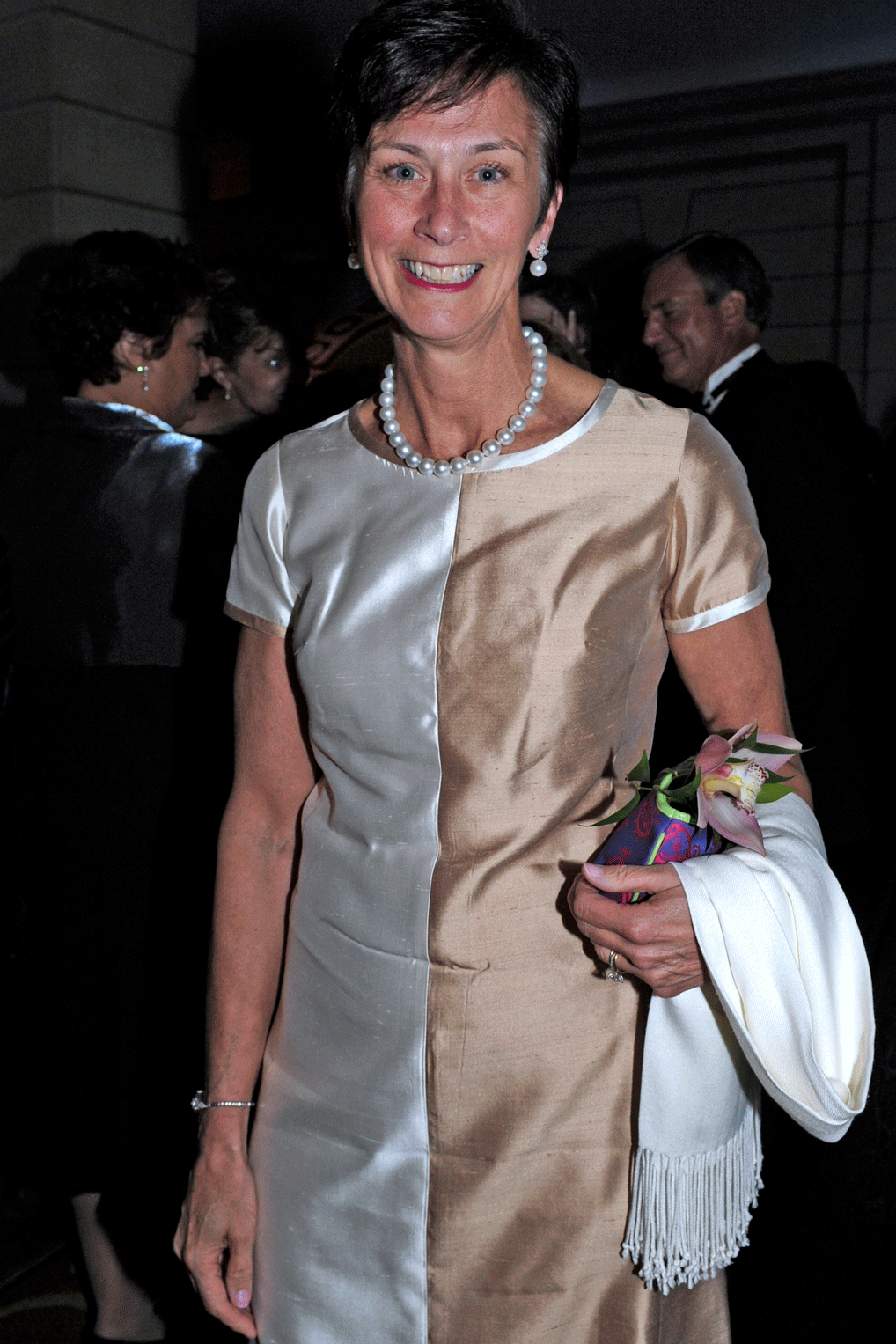 At BNY Mellon, Peetz urges midlevel women who feel stuck to consider lateral moves that will expand their range of experience. "Very senior careers take many years to build, so they shouldn't get impatient," says Peetz, 59. "You just don't know when something you did when you were 25 turns out to be super helpful when you're 50."
Many top-tier women manage to have children and still advance. Erdoes, 47, a mother of three young children, founded a re-entry program at JPMorgan in 2013 for women who've left the workforce.
But a career on Wall Street comes at a price. "There's this myth that, if you're going to the top, you can have it all," says Peetz, a mother of two. "Work-life balance is not possible to the degree that people kind of idealize."
Wells Fargo's Modjtabai, a senior executive vice president, knows that well. She spent about three years after her son was born working "part time"—in reality about 50 to 60 hours a week. She declined her boss's offer to go back to full-time status because, she says, she wanted the option of saying no if she couldn't attend a meeting. She never did.
Now 53 and long back at work full time, Modjtabai is so heavily scheduled that her PR handler promises her a two-minute break to prep for her next meeting. She says she tries to carve out time to spend with family and friends over the course of a month, a quarter, or a year, rather than scheduling it on a daily or weekly basis. "I don't believe that there is balance," Modjtabai says. "The reality is that there isn't."
This story appears in the July/August Rivalry Issue of Bloomberg Markets magazine.
Before it's here, it's on the Bloomberg Terminal.
LEARN MORE