Nike Surges as 51-Year-Old 'Growth Company' Beats Estimates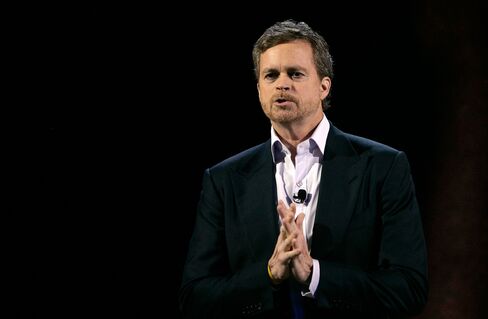 Nike Inc. keeps just doing it.
The company trounced analysts' estimates for profit, sales and orders last quarter, sending the stock into record territory on Friday.
Chief Executive Officer Mark Parker has been calling Nike a "growth company" for several years now. While some may have rolled their eyes at how the world's largest sporting-gear maker -- one founded more than five decades ago -- could be categorized that way, Nike continues to prove people wrong.
"It's extremely impressive for a company this size to put up these numbers," said Brian Yarbrough, an analyst at Edward Jones. "I don't know what stops this train right now."
Total sales in the fiscal fourth quarter rose 13 percent to $7.78 billion, excluding currency exchange-rate changes, the Beaverton, Oregon-based company said Thursday. That topped estimates of $7.69 billion. For the fiscal year, revenue topped $30 billion for the first time. It surpassed $20 billion just four years ago.
Even more impressive was what Nike did in parts of the world where many global companies are struggling, Yarbrough said. Revenue from China -- when taking out the strength of the dollar -- surged 20 percent. Japan advanced 19 percent, and Western Europe gained 17 percent.
"These are markets where all these other companies are starting to see a slowdown," Yarbrough said.
Shares Surge
Nike shares rose 4.3 percent to $109.71 on Friday in New York, the largest one-day gain since Sept. 26. The stock had advanced 9.4 percent this year through Thursday.
The company, which was founded in 1964, has fueled growth by investing in innovation and introducing scores of new products each year. Nike also has been helped by fashion trends shifting toward casual and comfort -- what's been dubbed "athleisure." It's been taking advantage of missteps by its largest rival, Adidas AG, too.
"There's no doubt Nike is benefiting from the tailwind of athleisure, but give them credit -- they are putting product in the market that consumers want," Yarbrough said.
Worldwide futures orders for the Nike brand showed the company isn't slowing down. They were up 13 percent, excluding the effects of foreign-currency exchange-rate fluctuations. Analysts estimated a 10.4 percent gain on average, according to data collected by Consensus Metrix. The measure is closely watched because investors view it as a proxy for future sales.
'Unprecedented Pace'
The strength in orders was also broad-based. Excluding currency effects, North America was up 13 percent, Western Europe gained 14 percent, and China advanced 22 percent. Emerging markets was a weak spot, growing just 2 percent by that measure.
"Our consistent growth is fueled by our connection to the consumer and our ability to deliver innovation at an unprecedented pace and scale," Parker said.
Finish Line Inc., a retail chain that sells Nike, also posted better-than-predicted results. Profit was 30 cents a share, excluding some items, topping the 24-cent average projection. Sales rose 9.1 percent to $443.4 million. Analysts estimated $430 million.
Finish Line rose as much as 6.5 percent to $28.75, the biggest intraday gain since December 2013. Foot Locker Inc. advanced as well, climbing as much as 2.6 percent to $67.79.
Nike's fourth-quarter net income rose 24 percent to $865 million, or 98 cents a share, from $698 million, or 78 cents, a year earlier. Analysts had estimated about 83 cents on average for the period, which ended May 31.
"It's crazy just how strong this business is," Yarbrough said. "They continue to take market share. You would think that it would slow down at some point, but it hasn't yet."
Before it's here, it's on the Bloomberg Terminal.
LEARN MORE