Irish Billionaire O'Brien's Digicel Plans IPO in New York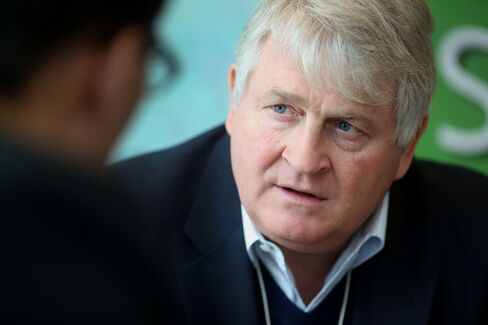 Irish billionaire Denis O'Brien's Digicel Group Ltd., the mobile-services company operating in the Caribbean and South Pacific regions, plans to sell shares in an initial public offering and list on the New York Stock Exchange.
Digicel may use some of the proceeds for capital spending, acquisitions and to pay down debt, which totaled $6.5 billion at the end of March, according to a filing Friday. It hasn't yet decided how many shares will be sold or the price.
"Given that leverage is high, it will be helpful to be able to have equity as an alternative source of funding to debt," said Tammy Lloyd, a fixed-income analyst with Investec Asset Management Ltd. in London, which holds Digicel bonds. "It's positive and it's going to be interesting to see what it means for the longer-term strategy."
O'Brien founded Digicel in 2001 in Jamaica, a year after he received a $288 million windfall from selling Esat Telecom Group Plc, the Irish telecommunications company that he built in the 1990s, to London-based BT Group Plc. Digicel, which operates in 31 markets, posted a net loss of $157.6 million in the year through March on sales of $2.8 billion, according to the filing.
Digicel initially sought growth in small markets where the competition was non-existent, according to Steven Hartley, an analyst in London with research firm Ovum. Now, the company is going up against industry giants, including Carlos Slim's America Movil SAB and Telefonica SA, while customers are becoming more sophisticated, he said.
"Digicel aren't having it quite their own way like they once did," Hartley said. "In that climate of not having so much natural growth, you've got to invest to keep your customers and that's an expensive hobby. There comes a point where it's worth raising that bit more capital to stay in the game and keep on expanding."
Digicel's mobile subscriber base has soared to 13.6 million in March from just 400,000 in 2002. The company had $448 million of interest costs for the financial year that ended in March, ending up with $500 million of cash and cash equivalents.
Voting Power
Digicel plans to raise the equity by selling Class A common shares, which carry 1/10th of the voting power of its B stock. O'Brien will maintain control on any action requiring general shareholder approval as long as he owns B shares representing at least 10 percent of the common stock, according to the filing.
The concentration of ownership and voting power may also delay, defer or even prevent an acquisition, making some transactions more difficult or impossible without the support of O'Brien, Digicel said.
In O'Brien's native Ireland, the businessman's dealings with bailed-out lender Anglo Irish Bank Corp. have prompted a government-commissioned probe into the workings of the bank after its 2009 rescue. O'Brien and former executives at the bank have denied that he got preferential treatment from the lender. While the government said there's no evidence of wrong doing, earlier this month, it caved in to demands for a full inquiry into the running of the bank.
JPMorgan Chase & Co., UBS Group AG and Citigroup Inc. will manage the Digicel share sale. Barclays Plc and Credit Suisse Group AG will act as bookrunners on the planned share sale.
Before it's here, it's on the Bloomberg Terminal.
LEARN MORE