Greece Aid Talk Fatigue Drags Into Weekend for Wall Streeters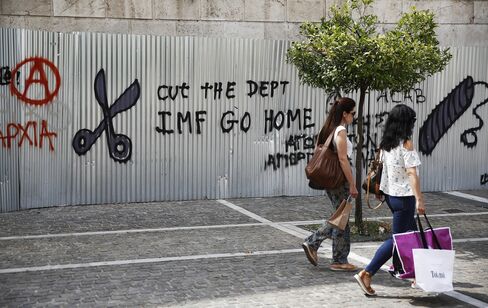 European policy makers are working overtime this weekend and they're holding Wall Street hostage.
As the Greek debt stalemate continues with another round of negotiations starting Saturday, traders and strategists are on high alert in case the deadlock spirals into a potential default or exit from the euro zone.
"I work most weekends, so the easy answer is that I'll probably work harder this weekend," Steven Englander, global head of Group-of-10 currency strategy at New York-based Citigroup Inc., said by phone.
Euro-area finance ministers are aiming hammer out an agreement to end a five-month standoff, armed with a proposal by creditors to unlock as much as 15.5 billion euros ($17.3 billion) of aid and extend Greece's program through November.
Many banks and investment companies are already short-staffed due to summer holidays, depressing trading volumes and making markets more volatile, Aurelija Augulyte, senior foreign-exchange strategist at Nordea Markets in Copenhagen, said by phone Friday. That means big developments for Greece may exaggerate price swings.
"Everyone hopes for the best, but prepares for the worst," she said. "Everyone is ready to come back, even from holiday if needed, to cover the situation."
On Duty
UBS Wealth Management, a unit of UBS AG that oversees $2.1 trillion of assets, is on standby as the talks unfold.
"All our clients will be looking for guidance if things develop in a way that's negative," Themis Themistocleous, London-based head of the unit's European Investment Office, said on a conference call Friday. "Absolutely, we need to stay close to these events."
The euro whipsawed and European bond markets gyrated this week as traders parsed official comments to glean the likelihood of a deal.
Greek Prime Minister Alexis Tsipras said Friday his nation would fight "blackmails and ultimatum" during the talks. European Commission President Jean-Claude Juncker said progress has been made, making him "quite optimistic, but not overly optimistic."
Shaun Osborne, head of global foreign-exchange strategy at Toronto-Dominion Bank in Toronto, is going on vacation to New York's Adirondack Mountains next week.
"I'm rather hoping that nothing kicks off," Osborne said.
Before it's here, it's on the Bloomberg Terminal.
LEARN MORE