Bombing at Shiite Mosque in Kuwait City Kills at Least 13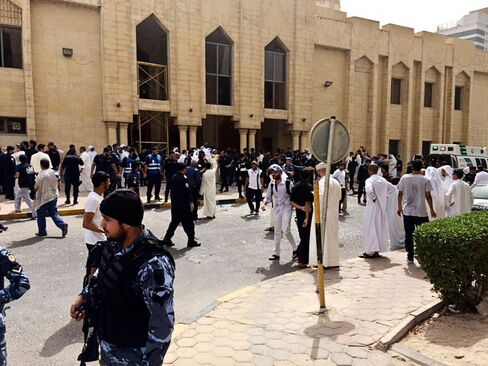 A bomb ripped through a Shiite mosque during Friday prayers in Kuwait's capital, killing and wounding worshipers, the first militant attack in the emirate in at least a decade. Television channels said the Islamic State group claimed responsibility.
At least 13 people were killed in the attack on the Al-Imam Al-Sadiq mosque in the city's Sawaber district, Agence France-Presse said. Local media reports and witnesses said the blast was carried out by a suicide bomber.
Kuwait's cabinet began an emergency meeting as the information minister, Sheikh Salman Al-Humoud Al-Sabah, vowed at the scene of the explosion to crack down "on all terrorists." The entire region is being "targeted," he said.
The blast in Kuwait follows a series of bomb attacks on Shiite mosques in Saudi Arabia that have been claimed by Islamic State. Kuwait had stepped up security at Shiite mosques since the Saudi attacks.
The Saudis are supporting U.S.-led operations in Syria against Islamic State, the Sunni group that has declared a caliphate in parts of Syria and Iraq it controls. Kuwait is not part of the coalition. Islamic State has repeatedly targeted Shiites, whom it considers heretics.
The Interior Ministry didn't disclose a toll for those killed or wounded. Emir Sheikh Sabah Al-Ahmed Al-Sabah visited the scene and the site was cordoned off by police.
Sectarian Faultline
A survivor said a bomber had detonated his explosives after shouting "Allahu Akbar," the Arabic phrase meaning "God is Great."
Fully veiled women could be heard weeping outside the mosque, where shattered glass covered the entrance. Shiites gathered outside called on the government to stand with them and shouted that it was time to wage war against "extremism" in the country, which has generally been peaceful.
By targeting Shiites, a minority that already harbors doubts about Gulf nations' commitment to protecting them, Islamic State is striking at a fault line that runs through Saudi Arabia, the world's biggest oil exporter, and some of its neighbors.
Before it's here, it's on the Bloomberg Terminal.
LEARN MORE