Disney Weighs $1 Billion Anaheim Expansion in City Tax Deal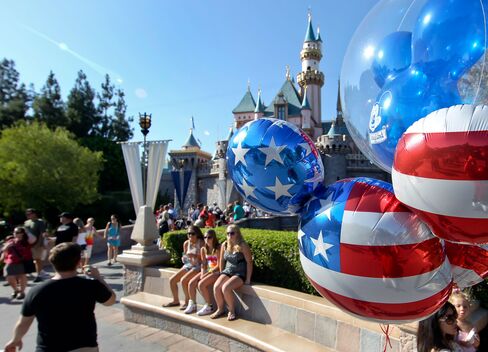 Walt Disney Co. would invest at least $1 billion in its Disneyland resort in Anaheim, California, under a plan providing the company continued protection from a potential ticket tax.
The city council will consider the proposal at a July 7 meeting, according to a statement posted Thursday on Anaheim's website. Disney would begin construction in 2017 on new attractions, a parking garage and road improvements that will improve local traffic flow, and have until the end of 2024 to complete them.
Disney hasn't said what it would build at the resort, which includes Disneyland and California Adventure. Fans and investors may get a glimpse of the company's plans at its annual D23 fan-club expo in August, where park projects are often showcased. Chairman and Chief Executive Officer Robert Iger has said Disney plans new attractions in Anaheim and that the company will outline plans for a greater "Star Wars" presence at its parks this year.
The current tax deal, which dates back to 1996 and ends in 2016, would be replaced with a new one that runs 30 years. Disney would be reimbursed if an entertainment tax, which would likely be based on ticket sales, was created. There isn't one now and none is planned, according to the city's statement.
"We are asking city leaders to continue with a policy set two decades ago that has driven unprecedented job creation, growth and prosperity and enabled the city to invest in vital services that benefit every Anaheim resident," Michael Colglazier, president of the Disneyland Resort, said in a statement.
Disney would get tax relief for another 15 years if it invested an additional $500 million, according to a summary released by the city.
Disney has been investing more than $2 billion a year in its global theme-park business. Attractions such the 2012 Cars Land addition at California Adventure led to a 23 percent increase in attendance that year.
The theme parks provide more than half of Anaheim's general fund revenue -- $148 million annually in hotel, sales, property and business license taxes, according to the city's statement.
"This proposed entertainment tax policy is a pragmatic way to facilitate investment and future revenue for city services," interim City Manager Paul Emery said in the statement.
Before it's here, it's on the Bloomberg Terminal.
LEARN MORE