Desiccated Markets Threaten Funding Models, U.K. Debt Chief Says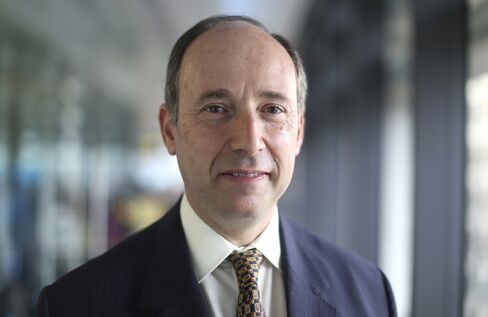 When your job is to borrow about $200 billion a year on behalf of your fellow countrymen, you want to be sure shifts in market structure don't threaten that goal.
That's the predicament facing U.K. debt chief Robert Stheeman. For him, and for his peers across Europe, diminishing trading volumes and greater price swings in fixed-income markets may threaten the very way they do business.
"Liquidity in the bonds markets is not what it once was," Stheeman said in an interview at a Euromoney conference in London this week. "It is incumbent on all major government borrowers to consider whether the issuance models that they have developed over the years are suitable."
Concern that liquidity -- the ability to trade without moving prices excessively -- is deteriorating has intensified as the global bond rout that erupted in April erased more than a half a trillion dollars in the value of sovereign debt. Exacerbating matters, the world's biggest banks are scaling back their bond-trading activities to comply with higher capital requirements imposed in the wake of the financial crisis.
"We rely on the banking sector to intermediate our supply," said Stheeman. "If they are not doing it -- be it because of regulations, be it because they don't think the returns are there -- that's where things start to change. It is possible that we see fewer primary dealers."
Primary dealers trade directly with debt agencies, acting as middle-men in some sales and ensuring bids and offers are available for participants in the secondary market.
Bond Curves
Stheeman's comments came a day after euro-area debt chiefs, including Germany's Tammo Diemer, downplayed concern that the market is distorted by declining liquidity.
"If you look at the German bond curve, there are no particular bonds that are out of line with others," Diemer said in an interview Tuesday. "This probably suggests there is no price distortion. What we have seen is intraday volatility. But that doesn't mean supply doesn't meet demand at the end of the day or the week."
Investors depend on price signals to value their holdings and count on being able to trade the securities without having prices move sharply against them. Amid a selloff this month, yields on German 10-year bunds, the region's benchmark securities, had their biggest two-day jump since at least 1999.
As a result, money managers are starting to recognize liquidity risks and incorporate it into the way they construct their funds, said Eric Brard, the Paris-based global head of fixed income at Amundi, which manages around $1.1 trillion of assets.
"The regulation has changed and the market superstructure has changed," Brard said. "We all have in mind the way the market was functioning before the crisis. When the market was very liquid, where banks were very active, committing capital to market making and so on and so forth. These are scenes of the past."
Before it's here, it's on the Bloomberg Terminal.
LEARN MORE