Apple Watch Is No Great Draw in Swiss Home of Luxury Watches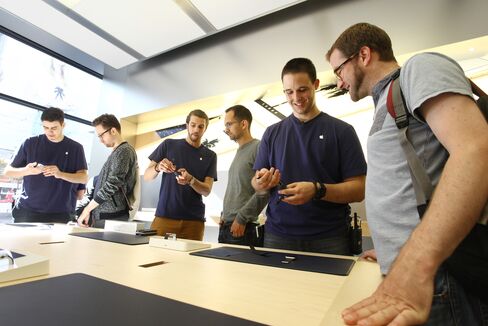 Apple Inc. began selling its smartwatch in Switzerland Friday, and the home of luxury watches gave a cool reception to the Silicon Valley gadget.
Waiting in line overnight was unnecessary to join the ranks of buyers that included Shaun Mettler, one of about 40 people who lined up outside Apple's Zurich boutique. The 23-year-old student said he hasn't owned a watch since his Flik Flak, a Swiss-made children's watch that Swatch Group AG introduced in the 1980s. He's buying an Apple Watch because, he says, most timepieces aren't useful enough.
"A normal watch just tells the time and is about prestige," Mettler said. "The Apple Watch has a whole range of functions, and the design is great. It will force Swiss mechanical watchmakers to come up with something new."
If successful, the Apple Watch could aggravate the Swiss watch industry's difficulties by attracting millennials who often don't wear watches. Swiss watchmakers already have to deal with a surge in the franc against the euro that's eroding profits, plus a slump in demand from China, the biggest market for their products. The industry's exports in May declined the most since 2009.
Small Group
Steven Wuersten, a 23-year-old logistics worker from the town of Frick, was among a small group who camped outside the Apple store Thursday night. That wasn't necessary, he said.
"It's a pity, I thought there would be at least 50 people here overnight," he said, sitting on a blue fold-up chair.
More than half of the crowd waiting at Apple's store on Zurich's Bahnhofstrasse on Friday appeared to be under 30 years old. Many said it will be their first timepiece.
"Young people are definitely the target audience of the Apple Watch," said Rene Weber, an analyst at Bank Vontobel AG in Zurich who was part of the throng. "Swatch is now challenged to bring something to the market that will excite young people."
The Biel-based watchmaker, which also makes high-end Omega and Breguet timepieces, is responding to Apple with a Swatch model that will be able to make mobile payments. Other Swiss brands have also said they're introducing electronic devices, including TAG Heuer, Montblanc and Frederique Constant.
Swatch fell 1 percent to 378.2 francs at 4:17 p.m. in Zurich. Apple was little changed at $127.57 in New York.
The Swiss prices for Apple's new gadget run from 389 francs ($417) for a Sport model to 17,500 francs for one with a gold case. Most people in line said they had their heart set on the cheapest version. When the device first arrived in shops in New York, London and Beijing in April, crowds were scarce.
One man who stood in front of the entrance said he was just there to fix his broken iPhone screen. Told what the crowd was for, he replied, "What's the Apple Watch?"
Read this next:
Before it's here, it's on the Bloomberg Terminal.
LEARN MORE