Target's Chief Merchant Steps Down in CEO's Latest Shake-Up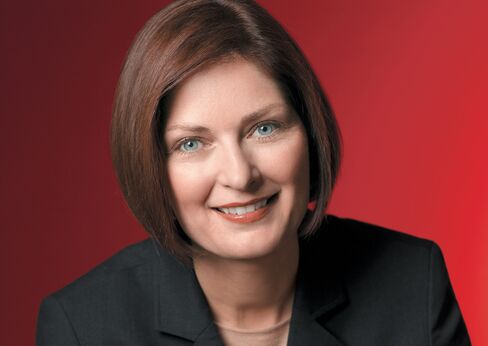 Target Corp. Chief Merchandising Officer Kathee Tesija, who oversaw the selection of products sold at the chain, will step down in the latest shake-up under Chief Executive Officer Brian Cornell.
Tesija will move to an advisory role on July 6 and then leave Target next April, the Minneapolis-based company said Thursday in a statement. Tesija, who also served as chief supply chain officer, has worked at the retailer for almost three decades.
Cornell has been working to turn around Target since he became CEO in August. He has eliminated about 2,000 jobs at the company's headquarters and shut down Target's unprofitable Canadian division. To help reignite growth, he aims to offer more health food and wellness products while also opening smaller stores.
"Over the past several months, Kathee and I have had many discussions about the business and together have decided that it is the right time for her to transition to an advisory role," Cornell said in a statement. "In this role, she will spend the next several months contributing to key enterprise initiatives and ensuring a smooth transition of her responsibilities."
The company has begun a search for Tesija's replacement. For now, her team will report to Cornell, said Dustee Jenkins, a company spokeswoman. Tesija will receive severance pay of $4.44 million, according to a company filing.
'Little Surprised'
"I'm a little surprised because sales have improved and Cornell has talked about how great a job she's been doing," said Brian Yarbrough, an analyst at Edward D. Jones & Co.
The shares have gained 11 percent this year, a sign investors have endorsed Cornell's efforts. Target's stock rose 0.2 percent to $84.50 at the close in New York on Wednesday.
Since joining Target after running major business units at PepsiCo Inc. and Wal-Mart Stores Inc., Cornell decided the retailer needed to re-focus on fashion and unique items. He's planning to revamp categories like food, home and wellness. As part of this shift, Target agreed earlier this month to sell the pharmacies in its stores to CVS Health Corp.
The company got away from its fancier "Tarjay" side under former CEO Gregg Steinhafel during and after the recession by selling more groceries and other staples. It was around this time that Tesija assumed the top merchant job.
Pushing into consumables left Target competing more on price with Wal-Mart and Amazon.com Inc.
"They became boring," Yarbrough said. "They need to get back to fashionable merchandise that excites people."
Before it's here, it's on the Bloomberg Terminal.
LEARN MORE