Pimco Says Greece Deal Near, Debt Restructure Should Follow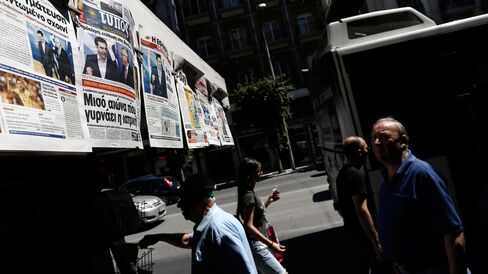 Pacific Investment Management Co. expects Greece's creditors to eventually take losses on their debt holdings to resolve a crisis that has enveloped the euro area.
Such an agreement with official creditors could come in "various forms," including stretching the maturity of the debt to as much as 60 years, Joachim Fels, global economic adviser at Pimco, said Thursday at a conference on international finance in Frankfurt.
Greek Prime Minister Alexis Tsipras, facing a June 30 deadline to make a payment on the country's debt, is meeting with creditors in Brussels in an effort to avoid a possible default. While Pimco expects Greece and its creditors to reach an agreement ending their latest standoff over financial aid to the country, it says this will only buy time.
Such an accord would eventually need to be followed by a discount -- or haircut -- on Greek securities to resolve the crisis, Andrew Bosomworth, head of portfolio management for Germany, said at the event with Fels.
"Our base scenario still is that the parties will find a last-minute, or last-second, agreement," Bosomworth said. "While we had expected a solution already, we still believe that's the goal of both parties."
Private bondholders took losses in 2012, when Greece swapped securities with new government bonds of a significantly lower nominal value.
Currency Risk
Greece is among geopolitical "tail risks" that will cause volatility. Those also include the conflict between Russia and the Ukraine, the U.K. potentially leaving the European Union, and Islamic State militants in Iraq and Syria, Bosomworth said.
"The Greek debate destabilizes the euro zone," he said. "We no longer just have a discussion about credit risk, we now have a discussion about currency risk. There is no longer the security that we will all stand together in Europe, as the contract says."
The dollar may trade at par with the euro later this year because U.S. economic growth could exceed expectations and the Federal Reserve will increase interest rates, probably in September and again in December, Bosomworth said.
Newport Beach, California-based Pimco oversees about $1.59 trillion of assets. It is owned by Allianz SE, Europe's biggest insurer.
Before it's here, it's on the Bloomberg Terminal.
LEARN MORE