Patrick Macnee, English Spy in 'The Avengers' Series, Dies at 93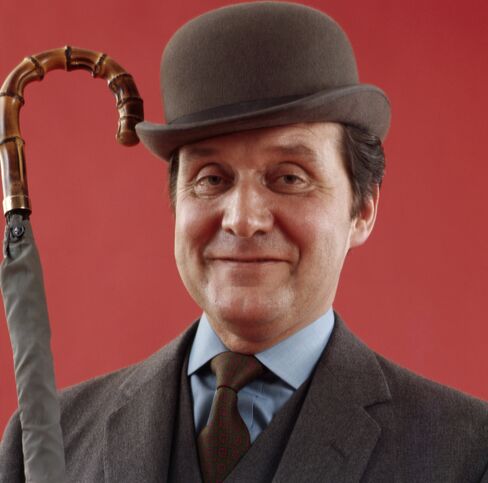 Patrick Macnee, whose role as bowler-hat-wearing secret agent John Steed in the series "The Avengers" made him a household name and the quintessential Englishman on television, has died. He was 93.
He died on Thursday in Rancho Mirage, California, the Associated Press reported, citing his son, Rupert.
Macnee's career of mostly supporting roles led to what would become his most famous part. When Ian Hendry, the star of "The Avengers," left what was a gritty, black-and-white spy series about one year after it started, co-star Macnee took over the lead and helped turn it into a glossy, cult program that became a hit worldwide.
With a string of glamorous, but assertive, female partners, including pre-Bond girls Honor Blackman and Diana Rigg, Macnee made the show a quirky classic with a look and style that defined the Swinging Sixties. It was helped by the debonair John Steed, whose neo-Edwardian look and umbrella as weapon of choice made Macnee a surprising sex symbol.
"We had so much fun and I worked with such beautiful women," Macnee said, according to the Express newspaper in 2010. "It was the first show that put its leading man and leading lady on an equal footing, and showed a woman fighting and kicking and throwing men around. That was a radical departure in its time."
The series ran from 1961 to 1969, with later episodes increasingly incorporating elements of science fiction, fantasy and British eccentricity. It was revived in 1976 as "The New Avengers" with Joanna Lumley taking on the role as Steed's female partner.
Early Years
Daniel Patrick Macnee was born in London on Feb. 6, 1922, into a wealthy family. His father, Daniel Macnee, was a racehorse trainer, who drank and gambled away the family fortune, leaving his son to be raised by his mother, Dorothea Mary, niece of the earl of Huntingdon, and her female lover.
Patrick Macnee was almost expelled from Eton College for running a gambling ring. "Let's say I had a broad education," he once said. His first attempt at acting was interrupted by World War II, during which he served in the Royal Navy.
After military service, Macnee gained a scholarship to the Webber Douglas School of Dramatic Art in London and resumed his acting career, with bit parts in "Hamlet" (1948) and roles in TV versions of "Wuthering Heights" (1948) and "Macbeth" (1949). During this period, he was a memorable young Jacob Marley in "Scrooge," starring Alastair Sim (1951).
In 1954, Macnee went to Broadway with an Old Vic troupe and later moved to Hollywood, where he made occasional television and film appearances until returning to England in 1959.
Camp Plots
Within two years, he had landed the role that brought him worldwide fame and popularity. As well as its increasingly camp plots and rousing theme tune, "The Avengers" became known for the interaction, often humorous, between Steed and his various - - often leather-clad -- partners, Blackman's Cathy Gale, Rigg's Emma Peel, and Tara King, played by Linda Thorson.
Blackman and Rigg both became stars in the U.K., mostly as a result of their outfits, with the former's black leather suits and knee-length boots resulting in a novelty pop-chart hit for Macnee and Blackman, appropriately called "Kinky Boots."
Macnee's close identification with Steed limited his career choices after the cancellation of the series in 1969 and, though agreeing to reprise the role in "The New Avengers" in the mid-1970s, it failed to recapture the magic of the original series.
Bond Film
During the 1980s and 1990s, Macnee appeared in supporting roles in movies, including "The Sea Wolves" (1980) and "The Howling" (1981), and he became a familiar face on U.S. television in series such as "Hart to Hart," "Hotel" and "Empire." His main big-screen appearances of the period included a role as James Bond's associate in "A View to a Kill" (1985) with Roger Moore, and as Sir Denis Eton-Hogg in "This Is Spinal Tap" (1984).
Blackman, who left "The Avengers" to star as Pussy Galore in the 1964 James Bond film "Goldfinger," was asked in 2007 who her favorite leading man had been. She passed on Sean Connery in favor of Macnee, who she said was "a gentleman and friend and really great to work with."
Macnee was married three times: to Barbara Douglas, the mother of his two children, Rupert and Jenny; to actress Katherine Woodville, who played a murder victim on the first episode of "The Avengers"; and finally to author Baba Majos de Nagyzsenye, who died in 2007 after almost 20 years of marriage.
Before it's here, it's on the Bloomberg Terminal.
LEARN MORE