Obamacare Here to Stay, Obama Says After Supreme Court Ruling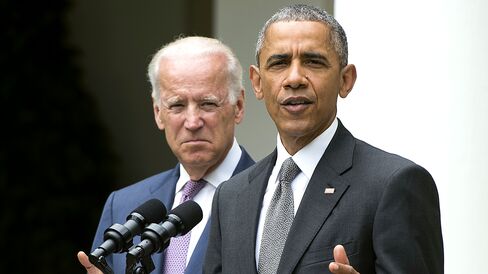 Obamacare is here to stay, President Barack Obama said.
Obama hailed a U.S. Supreme Court decision Thursday that preserved the foundation of the 2010 law, subsidies that help millions of Americans pay their health insurance premiums. The country should move forward, he said, especially Republican foes who have fought the Patient Protection and Affordable Care Act at every turn, in the Capitol and the courts.
"This is not an abstract thing any more, this is not a set of political talking points -- this is reality," Obama said in the White House Rose Garden, less than two hours after the ruling written by Chief Justice John Roberts, a Republican appointee to the court. "This law is helping tens of millions of Americans, and they've told me that it has changed their lives for the better."
He was joined by Vice President Joe Biden. Health and Human Services Secretary Sylvia Mathews Burwell, who was the defendant in the Supreme Court case, sat in the front row of the audience.
The lawsuit, brought by opponents of the law, challenged whether tax credits that discount insurance premiums should be available in 34 states that use the federal healthcare.gov system. The case turned on a single phrase in the law that a 6-3 majority of the court agreed was ambiguous, but was interpreted correctly by the Internal Revenue Service when it issued a regulation making subsidies available nationwide.
Republican Attacks
The ruling is the high court's second in three years to preserve the Affordable Care Act in the face of Republican-backed legal attacks. Opponents must now hope Republicans win the White House in 2016 for any chance to roll back the law.
Obama acknowledged that the law is a work in progress. Its rollout, in the fall of 2013, was beset by technological hiccups that made it difficult for many people to enroll. It remains largely unpopular, according to public opinion polls.
"We've got more work to do but what we're not going to do is unravel what has now been woven into the fabric of America," Obama said.
House Speaker John Boehner, an Ohio Republican, said Republicans will continue to challenge the law.
Justice Anthony Kennedy, like Roberts a Republican appointee, also joined the court's four Democratic appointees in the majority. They said the law allows tax credits in all 50 states, not just 16 that have authorized their own online insurance exchanges.
Before it's here, it's on the Bloomberg Terminal.
LEARN MORE