Myanmar Retains Barriers to Suu Kyi Becoming Nation's President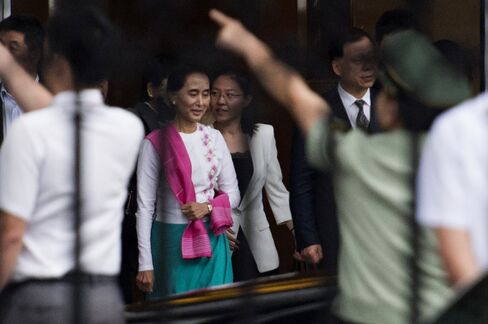 Myanmar lawmakers rejected constitutional changes that would've lowered barriers to an Aung San Suu Kyi presidency, dashing the Nobel Peace Prize winner's chances of winning the job after elections due later this year.
Among the failed amendments was a measure that would've reduced the threshold for charter changes to 70 percent from the current 75 percent. The amendment was seen by members of Suu Kyi's National League for Democracy as necessary to end a constitutional ban on her eventual candidacy.
"We expected the result but are not depressed," said Win Htein, an NLD lawmaker. He said the party would continue to push forward with efforts to change the constitution.
The current charter -- written by the military junta that ruled the country for a half century until 2011 -- bars from the presidency those with parents, spouses or children who are citizens of a foreign country. Suu Kyi's sons are British citizens, as was her late husband.
Unelected members of the military control 25 percent of parliament's seats, giving them an effective veto over charter changes. Approved amendments must also be ratified in a referendum.
The NLD is expected to see gains in elections slated for November -- the party's first contested national poll since the junta ignored the party's victory in 1990. The NLD boycotted the national election in 2011 that put President Thein Sein and his quasi-civilian government into power.
One of the failed amendments would've struck a portion of the provision on the citizenship of family members. Parliament did approve one amendment changing the qualifications for president, saying officeholders must be well-acquainted with "defense" rather than "military" matters.
"The military MPs do not support the other articles and that's why they failed," said Win Myint, a lawmaker from the ruling Union Solidarity and Development Party, which is aligned with the military.
Before it's here, it's on the Bloomberg Terminal.
LEARN MORE