McDonald's Finds Many Kids Still Want Soda With Happy Meals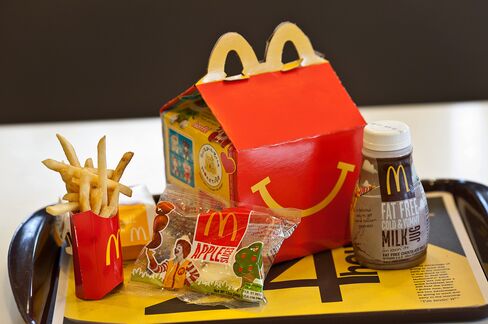 Kids still want soda with their McDonald's Happy Meals, even if the sugary drink isn't on the restaurant chain's menu boards anymore.
Two years after McDonald's Corp. pledged to offer apple juice and milk as the default drink options with Happy Meals, 48 percent of U.S. customers still order soda with the combos, according to a report released Thursday by McDonald's and the Alliance for a Healthier Generation.
Customers who walk into a McDonald's only see apple juice, chocolate milk and regular milk as options for Happy Meal drinks. That means they have to order off-menu to get a soda. And yet, many do. The number of diners getting soda is now 48 percent, down from 56 percent last July. Forty-six percent ordered milk or juice, up from 37 percent a year earlier, according the report. Some chose other options, such as water.
"It takes time to change consumers' behavior," Howell Wechsler, chief executive officer of the Alliance for a Healthier Generation, said in a statement. "It's promising to see the 8 percentage point decrease in customers selection of soda with Happy Meals."
Steve Easterbrook, who took over as McDonald's chief executive officer in March, is trying to pull the world's largest restaurant chain out of a prolonged sales slump. He's vowed to transform McDonald's into a "modern, progressive" burger company focused on hot food and convenience. He said parents have reacted positively to the Happy Meal change.
"As a parent, I know how difficult it can be to encourage your kids to eat well," Easterbrook told NBC's "Today" show on Thursday. "But generally the reaction we get from parents is one of gratitude."
Before it's here, it's on the Bloomberg Terminal.
LEARN MORE