Office buildings are enormous and often wasteful consumers of energy, a point that's most easily observed by walking around a big city at night and counting well-lit, empty offices. (If you prefer data to anecdote, commercial buildings were responsible for 20 percent of U.S. energy consumption last year, according to commercial real estate firm CBRE Group.)
Now a new report shows how far commercial landlords in the U.S. have to go to become more efficient.
The good news in the report, published yesterday by CBRE Group and Maastricht University in the Netherlands, is that 39 percent of office buildings in top U.S. markets have energy efficiency certifications.
The bad news is that it's the easy 39 percent.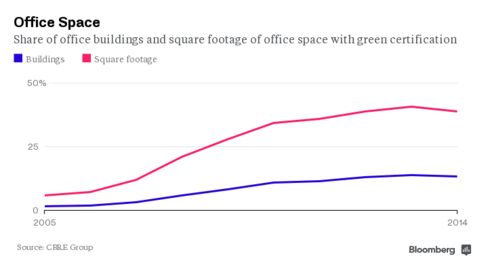 The above chart shows that 13 percent of the office buildings in the 30 biggest U.S. markets have achieved LEED or Energy Star certification.1 Those green-certified buildings account for 39 percent of the total office space in the markets studied. In other words, owners of large office buildings have been a lot faster to adopt sustainability than the owners of small buildings.
This chart shows the adoption rates for buildings of different sizes in the 10 largest U.S. office markets. Proponents of green buildings have specialized in wholesale trade, addressing a large share of the total office market by persuading a few hundred landlords to go green. But there are many more small office buildings than large ones: Researchers looked at more than 24,777 buildings smaller than 100,000 square feet and at 879 buildings that are 500,000 square feet or larger. Turning office space green in the future is going to require reaching thousands of those smaller building owners.
And small landlords can be a tougher sell. The large corporate tenants that tend to rent space in giant buildings are more likely to have sustainability baked into their mission statements, says David Pogue, CBRE Group's director of corporate responsibility. Large tenants are also more likely to have staff dedicated to energy savings, and they're in a better position to leverage their landlords into making building improvements.
"We have more questions than answers," Pogue says. "How do you motivate them? The messaging around energy efficiency worked for the big guys. Maybe the next step is that we need to find a different messaging for the owners of smaller buildings."
Before it's here, it's on the Bloomberg Terminal.
LEARN MORE