Here's What Happens to Your Stock Market After Suffering a Trouncing Like Greece
If history is any guide, Greek stock investors will likely have a long wait to make their money back
Based on the handful of national stock market calamities that bear a resemblance to Greece over the last century, the prognosis for recovery isn't encouraging.
From Russia in 1998 to Japan after its real estate bubble and the Great Depression in the U.S., bouncing back has taken years, with no guarantee of success. The Athens Stock Exchange Index is down 85 percent from its 2007 high as the Greek government negotiates with creditors for a bailout.
Here's a look at some of the biggest meltdowns by country and their stock market aftermath.
Ukraine

The Ukraine PFTS Index plunged 75 percent between February 2011 and April 2013 as the former Soviet republic wrangled with the International Monetary Fund over financial aid amid a recession. While shares have since rebounded 23 percent, the index is still 70 percent below its peak amid the military conflict with pro-Russian separatists.
Iceland

The OMX Iceland All-Share Index had one of the steepest declines of the 2007-2009 financial crisis, sinking 95 percent. The nation's banks defaulted on $85 billion in debt, sending the Atlantic island's economy to its worst economic turmoil since it gained independence from Denmark in 1944. Six years later, stocks are still stuck, with the benchmark measure hovering 7,000 points, or 86 percent below its previous high.
Russia & Thailand

The RTS Index slumped 93 percent over the 12 months through October 1998 as Russia devalued the rubble and defaulted on its debt. Climbing out of the hole took five years.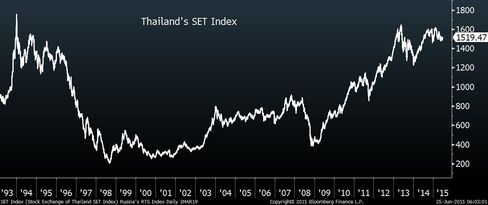 In Asia, frantic efforts by the Thai government to defend its currency peg to the dollar collapsed, extending the Bangkok SET Index's decline to 88 percent over the 4 1/2 years through September 1998. Almost 17 years later, the benchmark gauge is still 13 percent away from its 1994 high.
Japan

The country's lost decade started in 1990 with the bursting of asset bubbles following years of property speculation. The Nikkei 225 Stock Average, which tumbled as much as 80 percent from its record, is still 46 percent lower than the all-time high as the nation struggles to revive the economy amid an aging population.
United States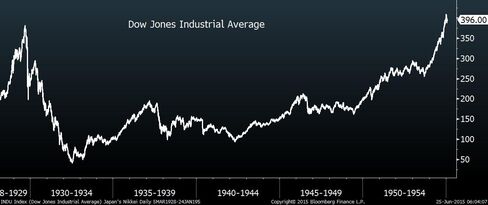 Stocks suffered the worst bear market in American history from September 1929 to July 1932, when euphoria turned to panic and the Dow Jones Industrial Average plunged 89 percent. Equities spent the next two decades fully recovering from the crash.
Before it's here, it's on the Bloomberg Terminal.
LEARN MORE