German Defense Export Licenses Decline Amid Minister Scrutiny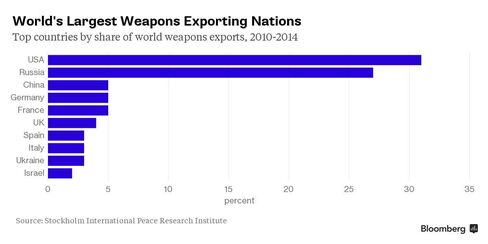 German defense-export clearances are shrinking as Economy Minister Sigmar Gabriel puts licenses under the microscope in a clampdown on the sale of arms that he's concerned may put industry interests before human rights.
The value of licenses to sell defense items abroad plunged 32 percent to 3.97 billion euros ($4.45 billion) last year, the government said in a report on military-equipment exports. Licenses including products made in cooperation with partners in the European Union or the North Atlantic Treaty Organization fell 25 percent to 6.29 billion euros.
While the government cautioned that the figures don't necessarily reflect shifts in policy, in part because licenses granted and deliveries may not occur in the same year, the declines come as Gabriel tightens the screw on arms exports. Gabriel, who took office in December 2013 and is also Germany's vice chancellor, has vowed to crack down on sales to other countries that may abuse human rights. To this end, he rewrote rules for small-arms transactions abroad last month, including stricter resale terms.
By license value, Germany's best-selling military products last year were warships, tracked and wheeled vehicles, torpedoes and ammunition, according to the report. Deliveries of more narrowly defined "weapons of war," which include missiles, helicopters and tanks, about doubled to 1.82 billion euros.
Party Pledge
Gabriel is bound by pledges to his Social Democratic Party to reduce arms sales to states that fail to protect human rights and the rule of law or where weaponry may contribute to political instability. Controls over the final destination of small arms sold to such nations are still insufficient, Gabriel has said in the past.
Germany's biggest defense companies, led by Airbus Group SE and Rheinmetall AG, say they're paying the price for the minister's export limits. The measures have frozen some deliveries, such as sidearms made by Heckler & Koch GmbH for police forces and helicopters made by Airbus's Eurocopter division to the central Asian country of Uzbekistan.
About 300,000 people including subcontractors work in the defense industry, according to the Berlin-based BDSV military manufacturers' lobby.
Germany declined to fourth place in the ranking of world's largest weapons exporters in the five years through 2014, behind the U.S., Russia, and China, the Stockholm International Peace Research Institute said in a study in March. The country placed third in the 2006-2009 period.
Before it's here, it's on the Bloomberg Terminal.
LEARN MORE