Foreign Investors Are Reducing Their Turkey Exposure at the Fastest Pace in at Least Ten Years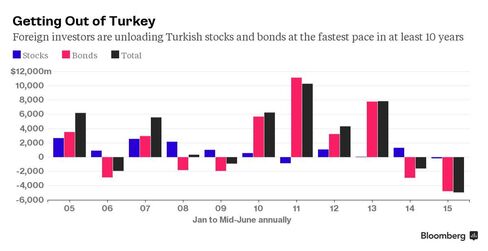 Foreigners have been pulling money out of Turkey at the fastest pace in at least 10 years, as the prospect of a U.S. rate increase compounded concerns about political turmoil following inconclusive elections.
Overseas investors sold about $875 million in Turkish stocks and bonds in the week to June 19, according to data published on Thursday. Total outflows this year of $4.7 billion have helped to depress prices for Turkish assets. The lira is down 12 percent in 2015, while bond yields rose the most among major emerging-market nations.
"One thing that's clear is that there is a sell-off consistently going on in Turkish bonds for some time now," Ozgur Altug, chief economist for the BGC Partners brokerage in Istanbul, said by e-mail. Political risk has amplified the "tendency to reduce bond exposure in emerging markets ahead of the Fed," he said.
Investors have pulled $26 billion from emerging-market funds in 2015 as they position for tighter liquidity once the Fed raises rates for the first time since 2006, a move widely expected this year. Turkey's June 7 election ended 13 years of single-party government by the AK Party, and as long as parties are unable to reach a coalition agreement a repeat vote can't be ruled out.
Early Elections
"Foreign investors are closing down their positions due to the possibility of early elections," Eral Karayazici, head of domestic sales at Gedik Securities in Istanbul, said by e-mail on Thursday. "When they woke up on June 8th, there was a 50 percent chance of early elections. This continued last week up to an extent. Probably with the coalition talks, we might see inflows this week."
Some equity investors have already been buoyed by signals that parties may agree on a government, according to Isik Okte, a strategist at TEB Invest. The nation's bonds, he said, are primarily being sold on expectations of rising U.S. yields and a deteriorating local inflation outlook.
"The recent selloff is a taste for what is to come when the Fed raises rates in September," Wolf-Fabian Hungerland, an economist at Berenberg, said by e-mail.
So far this year, net outflows from the bond market have totaled $4.5 billion, while the stocks have seen $227 million in withdrawals, according to central bank data. Combined inflows in 2012 stood at more than $22 billion.
Full Term
The lira gained 0.9 percent to 2.6547 per dollar at 5:20 p.m. on Thursday, strengthening past its pre-election level on bets a government would be formed. That pared losses this year to 12 percent, the worst worldwide behind Brazil's real. The yield on two-year lira notes fell to 9.86 percent, still more than 3 percentage points above their January low.
Voting for a parliament speaker next week may give the clearest indication yet of whether a coalition can be formed, said Soner Cagaptay, director of the Turkish Research Program at the Washington Institute.
If lawmakers are able to elect a speaker in the first or second round, which requires a two-thirds majority, a government is probable, he said. If they can't, early elections are more likely.
Should negotiations between the parties fail, an election would be held in November at the earliest, Deputy Prime Minister Numan Kurtulmus said on June 23.
Whatever the outcome of the political wrangling, history suggests investors would do well to plan on a vote before the scheduled date of 2020, according to Cagaptay.
"No coalition or minority government in Turkey has ever finished its full term," he said.
Before it's here, it's on the Bloomberg Terminal.
LEARN MORE