Courtney Love's Car Attacked in Paris Amid Anti-Uber Protest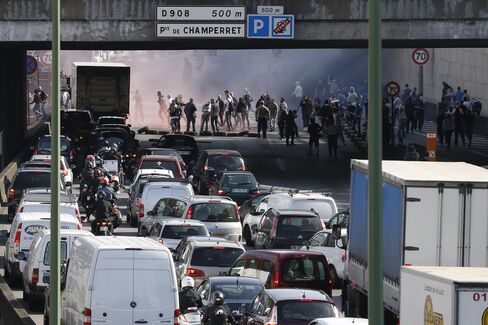 French taxi drivers staged a violent protest against Uber Technologies Inc.'s ride service Thursday, blocking access to Paris's airports, burning tires outside the city and shaking up American rock singer Courtney Love.
Love said on her verified Twitter account that she escaped Roissy Charles de Gaulle airport on a motorcycle after rock-throwing protesters bashed her chauffeured car with metal bats and slashed its tires. She called on French President Francois Hollande to use police to break up the protest, adding that she felt she'd be be safer in Baghdad.
The Paris protests were echoed across France as striking taxi drivers overturned cars, tied up traffic and blocked train stations and airports to object to what they called unfair competition. While driving a Paris taxi requires buying a license that can cost over 100,000 euros ($112,130), there is no such obligation for Uber drivers.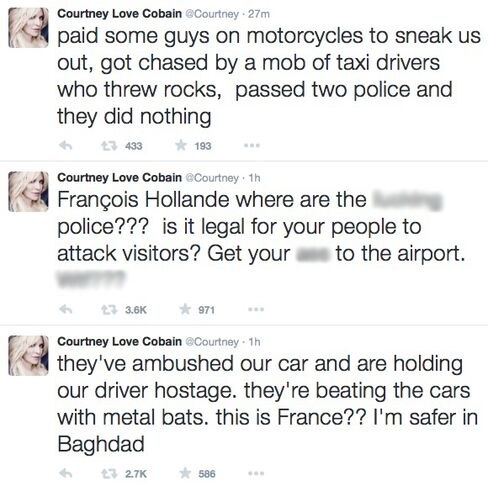 French Interior Minister Bernard Cazeneuve filed a complaint against the company for organizing illegal transportation services, AFP reported. The protests are specifically against the company's discount "UberPop" service, which enables mobile-phone users to ride with drivers who might not have a commercial license.
Violence is "unacceptable," Uber's France office said in a statement, noting that the French justice system hasn't declared its service illegal.
Burning Tires
https://twitter.com/Courtney/status/614018463099568129
Airport operator Aeroports de Paris advised travelers to use the RER commuter-train service to get to Roissy in the north and the tramway to get to Orly in the south, while the government urged people to use public transport. Three people were detained by the police in Paris and eight in Lyon following traffic disruptions and violent demonstrations, AFP said.
Photos circulating on RTL Radio's website featured burning tires in Marseille and the Paris ring road, which was briefly closed in the morning. Other photos showed overturned cars and tear gas being used on protesters in central Paris.
"Many taxis drivers are infuriated," Abdelkader Morghad, a representative of the FTI taxi union, said by telephone on Wednesday. "We're demanding that the Thevenoud law, which clearly forbids unlicensed drivers, be implemented. There's a lack of political will to do it."
The taxi strike is set to continue indefinitely in a country whose labor protests have a reputation as sometimes being more violent than elsewhere in the developed world. They're actually part of French tradition, said Pierre Boisard, a sociologist at ENS Cachan University, near Paris.
"Under Pressure"
''This is a very ancient form of revolt,'' Boisard said. ''Its roots go back to the country's peasantry. More than a collective movement, this is the eruption of individuals who feel cornered by the end of a system and who've been under pressure for years."
Cazeneuve has instructed Paris police to prevent UberPop from operating in the city, BFM TV reported on its website. He interrupted a trip to Marseille to join Prime Minister Manuel Valls in talks in Paris with some of the taxi unions.
Uber says it has signed up a million users in France -- including 250,000 for UberPop, the ride-sharing service that uses non-professional drivers -- in just over three years.
According to Morghad, taxis in France have seen revenue fall between 30 percent and 40 percent in the last two years because of such services.
France's leading taxi company, Taxis G7, said it would be unable to take any bookings and Uber's website couldn't be opened in the morning. Uber tariffs are likely to jump, since they vary depending on demand.
Justice's Job
"It's not up to the taxi drivers to enforce the law," government spokesman Stephane Le Foll said on i-Tele on Wednesday. "UberPop is illegal but let the justice system do its job."
The police in Paris are deploying an "adapted" force to prevent any incidents, a spokesman at the Prefecture de Police de Paris said by phone, without elaborating.
Cazeneuve said last week that he had asked police and the tax-fraud office to step up monitoring of UberPop drivers. The special police unit, dubbed "Les Boers," has already made 420 legal filings against what they say are clandestine taxis operating as UberPop and similar services, Cazeneuve said.
Police in Strasbourg, Marseille and Nantes have prohibited the UberPop service. In Lyon, UberPop was banned last week after taxis planned similar actions, newspapers said.
Click here for a real-time traffic map of the Paris area.
Read this next:
Before it's here, it's on the Bloomberg Terminal.
LEARN MORE