There's a Huge Investment Opportunity in Chinese Bones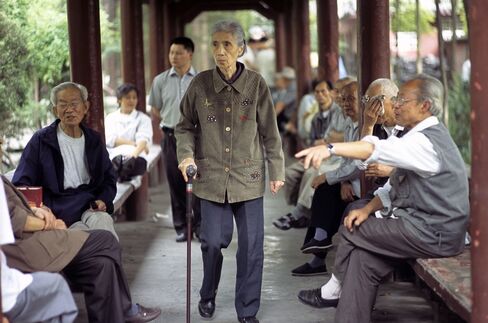 Shuai Yuan wants to help all the hunched-up grannies in China stand tall again.
The former banker worked on the 2010 initial public offering of a Chinese maker of hip implants as a summer associate at Morgan Stanley and went on to see that company acquired for more than double the value. Now an entrepreneur, he's seeking to capitalize on the shortfalls of China's public hospital system and surging demand from those seeking care for creaking knees and fractured hips.
While expansion by Chinese companies now owned by Medtronic Plc and Stryker Corp. helped increase access to orthopedic products over the past decade, getting medical care for a bad hip still takes months, and many of China's elderly simply choose to live in pain. Spotting an investment opportunity, private-equity groups, former bankers and international health-care firms are swarming in.
"It's rare to have a Western mainstay that somebody else didn't already bring to China," said Yuan, a Yale graduate. "You don't find many untapped opportunities like this any more."
Investors are being drawn partly by government efforts to encourage private investment in health care. China also has more than 100 million elderly people -- a number set to double in the next three decades.
Broken Bones
This demographic group tends to have more brittle bones, and hunched over elderly women and men are a common sight on city streets. The Chinese orthopedic device market expanded 22 percent to 9.2 billion yuan ($1.5 billion) in 2014 from a year earlier, market survey firm Huidian Research estimates.
Columbia Pacific Management, a Seattle-based health-care investment firm, just acquired a 200-bed orthopedic hospital in Shanghai's Pudong District -- and is building others. Bee Lan Tan, president of Columbia Pacific's China hospital business, points out that public hospitals are so busy that they can sometimes discharge patients early to make room for others.
"The Chinese perception is, if you are going to go under the knife, you want the best," Tan added. "So we see an opportunity to provide an alternative."
Yuan, 26, was part of Morgan Stanley's private-equity team hunting for Chinese hospital assets until March, when he founded a rehab hospital operator group with Albert Xu, who had been in a similar role at Blackstone Group.
Their company, Care Alliance, plans to open a 200-bed rehab hospital -- which will also target stroke and accident victims - - in their hometown of Chengdu in western China by the end of next year. The aim is to reach people like Yuan's mother and grandmother, who sustained injuries and were told -- as was the tradition for many decades in China -- to go home and rest for a few months.
'Weird Shape'
"The conventional wisdom in China had always been bed rest," Yuan said. "But maybe with more hospitals, someone else's mom won't have a leg that healed in a weird shape and she'll have a leg that can bear weight."
In Shanghai, already more affluent than other parts of the country, there are about 334 elective and trauma-related orthopedic surgeries per 100,000 people, Alexander Ng, associate principal at McKinsey & Co., estimates. The U.S. has four times as many.
"In the years to come, the silver generation will be made up of those that came of age in a more modern China, they know they don't have to walk in pain," Ng said. "And because this is a health-care decision that relates to quality of life, people want the best."
Orthopedic Prices
While prices are still prohibitive for the poorest, reforms in the government system have meant that people are increasingly able to get some money back for orthopedic procedures and physical therapy. China's State Council said on June 15 that it'll make it easier for private hospitals to list or sell bonds, and will speed up approvals for new facilities.
In November 2012, Medtronic bought China Kanghui Holdings Inc., the company that Yuan helped take public as a summer associate. A few months later, Kalamazoo, Michigan-based Stryker Corp. offered $764 million in cash to buy Kanghui's competitor Trauson Holdings Co.
Stryker said in an e-mail that while it's seeing fewer trauma cases related to car accidents in China because of improving road safety, there has been an increase in elderly fragility fractures due to the aging population.
"What we are building is in scarce supply," said Yuan, who aims to take his company public one day. The firm is in talks to raise some venture capital, he said, after getting $2 million from angel investors. "Being able to walk properly should be the rule, not the option."
Before it's here, it's on the Bloomberg Terminal.
LEARN MORE