Anti-Uber Taxi Protest Blocks Road Access to Paris Airports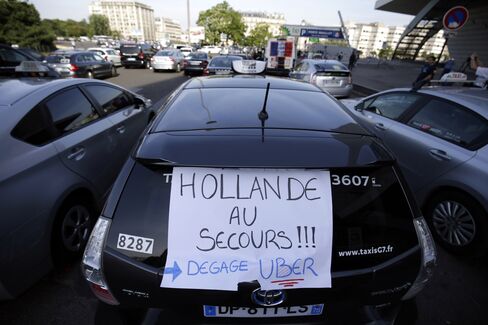 Paris taxi drivers blocked access to the city's Roissy and Orly airports as part of a protest against Uber Technologies Inc.'s app-based ride service.
Aeroports de Paris advised travelers to use the RER train service to get to Roissy and the tramway to get to Orly. Road access to Orly was difficult at 9 a.m. in Paris, according to regional traffic website Sytadin. The government called on people to use public transport as traffic jams lengthened.
French taxi drivers are on indefinite nationwide strike as they demand a government crackdown on what they say is Uber's use of unlicensed chauffeurs for its UberPop service. While driving a Paris taxi requires buying a license that can cost over 100,000 euros ($112,130), there is no such obligation for Uber drivers.
"Many taxis drivers are infuriated," Abdelkader Morghad, a representative of the FTI taxi union, said by telephone on Wednesday. "We're demanding that the Thevenoud law, which clearly forbids unlicensed drivers, be implemented. There's a lack of political will to do it."
French Interior Minister Bernard Cazeneuve has instructed Paris police to prevent UberPop from operating in the city, BFM TV reported on its website. The UberPop application is already opposed by the government. The taxi unions will meet with ministers at the office of French Prime Minister Manuel Valls, AFP reported.
Falling Revenue
According to Morghad, taxis in France have seen revenue fall between 30 percent and 40 percent in the last two years because of such services. Uber drivers have been attacked or threatened with violence.
Uber says it has signed up a million users in France -- including 250,000 for UberPop, the ride-sharing service which uses non-professional drivers -- in just over three years.
France's leading taxi company, Taxis G7, said it would be unable to take any bookings today. Uber tariffs are likely to jump as they vary depending on demand.
"It's not up to the taxi drivers to enforce the law," government spokesman Stephane Le Foll said on i-Tele on Wednesday. "UberPop is illegal but let the justice system do its job."
The police in Paris will deploy an "adapted" force to prevent any incidents, a spokesman at Prefecture de Police de Paris said by phone, without elaborating.
French Interior Minister Bernard Cazeneuve said last week that he had asked the country's police and the tax fraud office to step up monitoring of UberPop drivers. The special police unit, dubbed "Les Boers," has already made 420 legal filings against what they say are clandestine taxis using UberPop and similar services, Cazeneuve said.
Police in the cities of Strasbourg, Marseille and Nantes have prohibited the UberPop service. In Lyon, UberPop was banned last week after taxis planned similar actions, newspapers said.
Click here for a real-time traffic map of the Paris area.
For more, read this QuickTake: The Sharing Economy
Before it's here, it's on the Bloomberg Terminal.
LEARN MORE